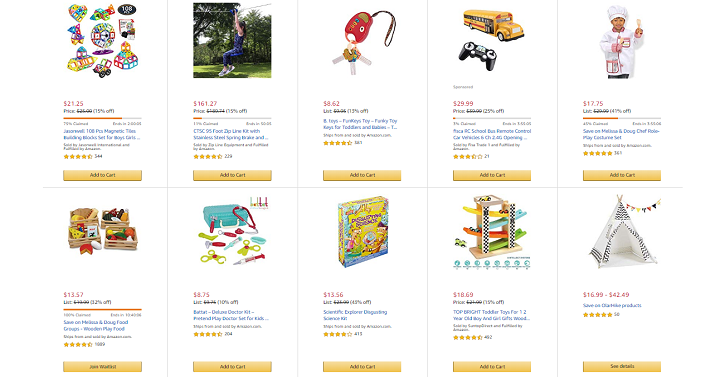 If you haven't shopped Amazon on Black Friday before you may not be familiar with their Lightening Deals. Well, don't worry, I've got your back and want you to be prepared. So read this post and you will know everything there is to know about how to shop and save with Amazon Lightening Deals.
Lightening Deals are super discounted prices on a variety of products from electronics to toys. However, there are limited quantities of each product. Once the product is sold out the deal is dead and you are out of luck. And, since you don't want to be out of luck you will want to bookmark these links:
Once you have those bookmarked you can check your wish lists and then shop the Lightening Deals. They are set to go live at pre-determined times, which means you can look ahead to see when they will go live and then add specific deals to your "Watched Deals" category. Plus, if you are an Amazon Prime Member you can get early access to most Lightening Deals. This gives you 30 extra minutes to shop the deal before the general public can shop it. If you aren't an Amazon Prime Member, you can get a 30-day free trial of Amazon Prime here.
Once you find a deal that you want the goal is to add it your cart as fast as possible. Typically, you can't add multiple quantities; so plan on getting one of whatever it is you are shopping for. Once in your cart, you will have 15 minutes to check out. If you don't checkout in 15 minutes you will loose your item. It then becomes available to individuals who are on the wait list.
Which leads me to my next pointer; if you don't get the deal on your first try sign up for the wait list. That way, if someone changes their mind or doesn't checkout in time, Amazon will notify you that you can now purchase that item. You can then add it to your cart and will have 15 minutes to checkout.
Whew! I think that about covers it. Of course, Amazon will have other Black Friday deals available and I will have those covered for you as well, but throughout the holiday season these Lightening Deals are going to be super hot! So check them often, like multiple times a day, often. Get the deals you want into your "Watched Deals" category and get ready to save. Happy Shopping!