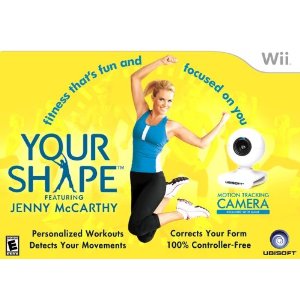 I never thought I would be able to write a post about a moneymaker deal on video games, let alone when the seller is Amazon. but there are a couple of great deals going on at Amazon right now on two video games:
1) Amazon is selling the video game Glory of Heracles
for DS for $10.99 PLUS when you buy it you get a $10 credit towards a future video game purchase AND you get a $5 credit good on MP3 downloads.
2) I blogged about this last week, but the deal is better. Your Shape
video bundle for wii is on sale for $18.50. But Best Buy Trade in program is offering a $25 gift card or check when you trade in this game. That's a $6.25 moneymaker deal. How crazy is that?
Both video games ship for free with Amazon Prime or when you spend $25 on eligible purchases. So basically you could buy both video games for $29.49. Get $25 from Best Buy through their trade in program,  a $10 credit on Amazon towards a future game purchase on Amazon and the $5 credit on MP3 downloads. Spend $29.49 and get $40 back. WOW!
Thanks Chief Family Officer!
Edited to add: Here is the list of all games you could trade at Best buy.