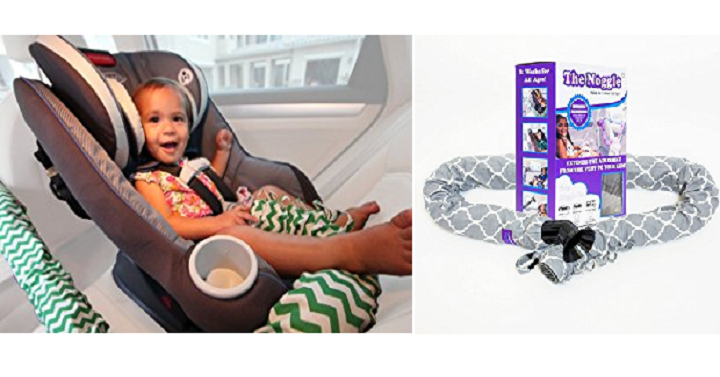 Have a rear facing child I know who frustrated and hot they get in the summer! Whoever came up with this idea was super smart and now you can benefit from it! Amazon has the Noggle – Extend Your Air Conditioning or Heat to Your Kids Instantly (8ft) for $46.98! They also have the 6ft version for slightly cheaper. It features:
KEEP YOUR BABY COMFY – This Noggle creates a comfort zone wherever it is placed. You can now prevent your little ones from overheating on hot summer days and keep them warm in cold temperatures.

EASY TO ATTACH – Specifically designed for convenience, with the loops on the end, the Noggle can be attached anywhere you like: head-rest, car seats, backseat handle, seat belts and more.

EASY TO REMOVE – Our patented quick disconnect system allows you to easily remove the Noggle from the dash when you are traveling alone or when the car is at the desired temperature.

ENTERTAINING DESIGN – The Noggle has a decorative cover with bright colors. It keeps your little ones entertained and occupied so you can focus on driving

IMPROVE YOUR AIR CONDITIONING AND HEATING – The system installs under 30 seconds with no tools needed and will work on most vehicles. It comes with 2 adapters, one for a circular vent, and one for a rectangular vent.
Shipping is also free for everyone!