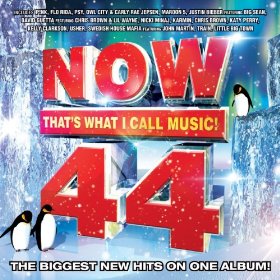 Music lovers!  you can download[easyazon-link asin="B009ZQDIIQ"]NOW That's What I Call Music Vol. 44[/easyazon-link] for just $5.99 from Amazon.  This MP3 album contains the following hits:
1. Blow Me (One Last Kiss) Pink
2. Whistle Flo Rida
3. Gangnam Style Psy
4. Good Time (feat. Carly Rae Jepsen) Owl City
5. One More Night Maroon 5 3:39 Album Only
6. As Long As You Love Me (feat. Big Sean) Justin Bieber
7. I Can Only Imagine (feat. Chris Brown & Lil Wayne) David Guetta
8. Pound the Alarm Nicki Minaj
9. Hello Karmin
10. Don't Wake Me Up Chris Brown
11. Wide Awake Katy Perry
12. Dark Side Kelly Clarkson
13. Numb Usher
14. Don't You Worry Child (feat. John Martin) Swedish House Mafia
15. 50 Ways to Say Goodbye Train
16. Pontoon Little Big Town
17. Stay Awhile (NOW What's Next Bonus Track) Ryan Star
18. Gold (NOW What's Next Bonus Track) Britt Nicole
19. Give Me Your Hand (NOW What's Next Bonus Track)
20. Be In Love Tonight (NOW What's Next Bonus Track)
Check them out here.  Amazon pricing can change without warning so get your cheap music now.
Don't forget that if you join the Scott Brand Shared VAlues program and get a free $5 credit good towards the purchase of music from the Amazon MP3 Store.