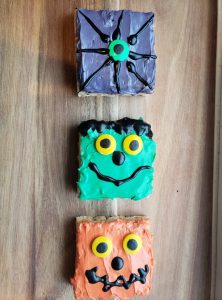 This year has been weird, but the fact remains, the show must go on! As sad as it makes me, I have to admit that summer is coming to an end. On the bright side though, that means that fall is coming soon! I live in a place where we have 4 seasons and I love each and every one of those seasons. As much as I love summer, I love fall just as much. 
One of my family's favorite things about fall is Halloween!! Okay, that's basically everyone's favorite thing about fall, right? We love Halloween and all that goes with it, especially the fun recipes and crafts that the kids and I do together. We are already gathering ideas for this coming Halloween.
Awesome Halloween Craft and Recipes to Do with the Kids Soon
We all knew that Rice Krispie Treats were going to make the list somewhere, right? They always top easy desserts, so why not make a fun Halloween treat out of them?! We made these last year and my kids had a blast making them, and eating them. 
Want to do a fun craft and keep a sweet keepsake of your child's growth? This fun and simple paper craft that uses crafting supplies that you probably already have on hand!
If you have had a kid in the last 10 years or so, chances are, you know all about Spookley the Square Pumpkin. We got the book from a Scholastic Book fair when my daughter was in the 2nd grade (she is going to be a junior this year) and we have read it every single year with our younger kids. There's even a cute movie on Disney+ now! This fun craft is perfect for all of you other Spookley lovers out there!
I love these popsicle stick monsters because they are so easy to make for kids of all ages and they don't require serious creative skills (this is a huge plus for me!).