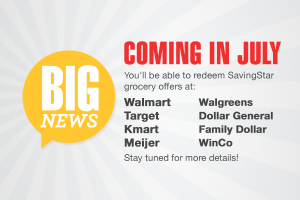 Wow! Here's some pretty awesome news from SavingStar! Coming in July, shoppers will be able to redeem SavingStar grocery offers at more stores, including Walmart, Target, Kmart, Walgreens, Family Dollar, Dollar General, WinCo, and Meijer!
I'm not sure how you'll be able to redeem offers just yet. You might need to take pictures of your receipt, like you do with Checkout 51, or you might need to link your credit or debit card to your account. I'll be sure to let all of you know more as soon as I find out more.
If you aren't already a SavingStar member, make sure you sign up for free, so you can be ready to start redeeming offers!
To take advantage of SavingStar offers, you'll need to hook your store loyalty cards to your SavingStar account, then use the card when you check out. SavingStar savings don't come off your total at checkout. Instead, cash back accumulates in your SavingStar account. You can cash out with PayPal or your bank account, or get an Amazon gift card when your account reaches $5 or more

SavingStar is the smart and simple way to save on your groceries and online shopping. Click here to find out more and get started!