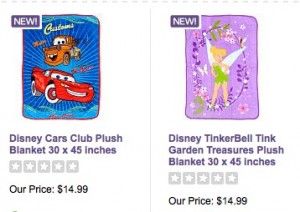 Right now you can get a free Plush Disney Blanket with any Nursery purchase at Babies R Us.  This is a $14.99 value.  There are a lot of eligible items that sell for less than $10.  Here is how to Snag this deal:
Check out all Nursery items here and choose what you would like.  The $2.99 hangers qualify!
If you have a Shoprunner account, you get free shipping, as long as you buy an item that qualifies for Shoprunner shipping.  Most do..  You can get a one month free trial here.  Otherwise shipping varies according to what you order.
You can get 1% cashback from Shop at Home.  This blanket is 30×45 inches if you need to know.
Thanks, Couponing to Disney!