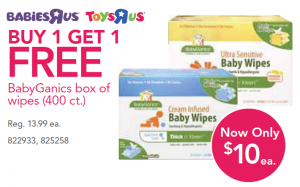 Here is a sweet deal on baby wipes in general and a super great deal on "green" baby wipes.  From now through 1/17, you can get a big box (400 wipes) of BabyGanics Baby wipes for only $10.  But on top of that Babies R Us has BabyGanics products on sale buy one get one free.  So grab two boxes and pay just for one.  That makes each box only $5 and each wipes only 1.2 cents.
Has anyone tried these wipes?  How are they?  Please share your thoughts in the comments if you have used these wipes so others can decide if they want to try them.
Thanks Thrifty Couple!