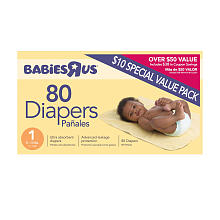 Here is a super deal available from Babies R Us right now:  get $10 off your order when you buy a value box of Babies R Us diapers (up to 74ct) and a value box of Babies R Us wipes (up to 432 count).  Prices for both start at $10 each.  So after the instant discount at checkout, you can get two for just $10.  if you have a Shoprunner account you can get them shipped free to you.  But they are also available for free in-store pickup.  UPDATE: Only the wipes are available for in store pick up.
This is available for size 1, size 2 and size 3.
Thanks Passion for Savings!