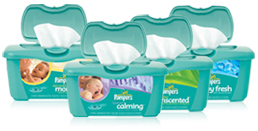 In need of a good deal on baby wipes?  Below you will find a compilation of the best deals available right now with couple of options as far as brands go even!
CVS Deal
Buy two Huggies Wipes, 360 ct — $17.98
Use two $2/1 Huggies wipes coupons
Pay $13.98 plus tax out of pocket and get back $3 extra care bucks.
This deal makes the wipes $0.98 per tub if you consider that each tub of wipes has 64 wipes.  Here is the math: 720 wipes comes to roughly 11.25 tubs.  Next cost of $10.98 divided by 11.25 tubs = $0.98 per tub.
Amazon Deal
Amazon has Pampers Baby Fresh Wipes, 720-count Box
for $13.43 when you select subscribe and save and sign up for Amazon Mom (free to join and you get free Prime Shipping as well)
Target Deal
Buy three tubs of Huggies wipes $1.99
Use one $2.50/3 Huggies Baby Wipes (exp 10/2/2010)
Use two $0.75/1 Huggies Wipes Target.com (exp 10/13/2010)
Pay $0.65 each after coupons
Hopefully with these deals you can find the one that works the best for you and your needs.
Thanks My Frugal Adventures)