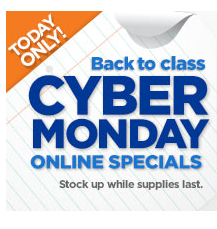 Today only (8/12) Walmart is hosting a Back to Class Cyber Monday Online Specials.  You can stock up on online deals while supplies last!

They are offering even more discounts for today on Apparel & Uniforms, School Supplies, School Electronics and Home & Dorm.
You can get uniform shirts for just $4 (Reg $5.97), uniform pants for just $8 (Reg $12.97) and 24 ct Crayola Crayons for $0.50 (Reg $1.37) just to name a few items!
I actually prefer to buy some of the uniform items online since I can never find enough of my son's size in the store.
Check out all the great offers right here.  Remember, this is today only while supplies last.