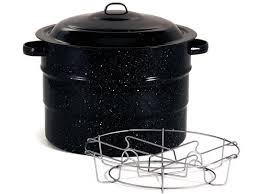 Basic canning equipment is something that every country kitchen and green-thumbed goddess should have. Preserving an abundant harvest by canning it is a great way to save money, reduce food waste, and have healthy homemade goodies all year long.
Whether you're canning a hundred pounds of tomatoes of just making a few jars of jam, you'll be needing some basic canning equipment. Don't worry, though! The small amount of must-have canning equipment is pretty short and shouldn't cost you an arm and a leg.
Must-Have basic Canning Equipment
Water Bath Canner 

One of the most important pieces of basic canning equipment is the water bath canner. This is nothing more than a large metal pot, usually with a metal rack or basket to keep glass jars from resting on the bottom. You can sometimes find these for next to nothing at thrift stores and garage sales, but you can also use a large stock pot with a towel or cooling rack on the bottom to keep the glass jars off the bottom. Just make sure that the pot is tall enough so your canning jars are covered with an inch or two of water.

Canning Jars

Another essential for canning is obviously the canning jars. These come in a few different common sizes, including 4 oz jelly jars, 1/2 pint jars, pint jars, and quart jars. I prefer wide mouth canning jars, since they're easier to fill and easier to get the air bubbles out of.

Lids and

When talking about basic canning equipment, lids are flat metal disks. These fit flat onto the top of the canning jars and are secured by the round metal bands that screw onto the jars. Once the jars have sealed and cooled, the bands can be removed. Canning jar bands are reusable, but you'll typically need to buy fresh lids every year. Keep in mind that wide mouth and regular mouth jars do take different size lids and bands.

Jar Lifter 

Pulling a freshly canned jar from boiling water really isn't recommended. That's why a jar lifter is one of the most essential pieces of canning equipment. A canning jar lifter is a large set of tongs that fit around the necks of canning jars. The ends of the tongs are covered in a non-slip material, so the jar won't slip from your grip and shatter.

Towels You should have several fresh clean towels on hand when canning. These can be used for wiping jars and jar rims, cleaning up spills, and placing jars on to cool. Cheap towels from a dollar store are sufficient for this; just make sure you have several of them on hand.
Optional Canning Equipment
While the above basic canning equipment is pretty much essential, there are also a few pieces of basic canning equipment that are optional. These aren't absolutely necessary, but they do make canning a little easier.
Magnetic Lid Lifter

A magnetic lid lifter is nothing more than a stick with a magnet on the end. It's used to remove lids from hot water after sanitizing them.

Funnel 

A wide mouth funnel can be used to fill canning jars. Using a funnel can help cut down on messes and spills.

Recipe Book

These days, most canning information, including canning recipes, can be found online. However, if you can find a decent deal on a canning recipe book, grab it!
More Frugal Living Resources: