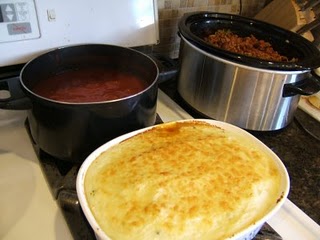 This weekend was a big cooking weekend. My husband brings his lunch to work everyday and he had run out of things to take. We took out 10 pounds of ground beef we had in the freezer. Before lunch on Sunday I made: shepherds pie, spaghetti meat sauce and chili.
It really was quick work, chopped onions and garlic once, browned meat for chili and meat sauce all at once. The three meals were made in an hour. Then later in the afternoon my husband made sweet and sour meatballs. All in all he ended up with 18 meals to take to work. From the meat sauce I can make two lasagnas later on and that makes additional meals as well.
This coming weekend I am making Thanksgiving dinner all over again. It's a favorite meal of his and a 13 pound turkey makes a lot of meals for him. I think he should be OK for a while. There will also be leftover from meals cooked during the week for him to take to work and not have to feel like he is eating the same two things over and over.
My husband even takes his own sodas to work. Ever since I found out he was paying 65 cents every day to the vending machine, I make sure he keeps a 12 pack in his office. Now I really don't have to worry about this category being a budget buster for us and I don't have to worry about him eating frozen prepackaged meals full of sodium.