Walgreens is the place to be this week if you want to get cheap diapers. Huggies are 9.49 per jumbo pack and when you buy one you will get a $2 Register Reward back. Use a manufacturer coupon and a $1 off coupon from the coloring book and you could be paying as little as 6.49 per pack, 4.49 after you factor in the Register reward. If you save your receipts you can submit them for the Caregivers Marketplace rebate program for an additional $1 off.
Be on the lookout for clearance diapers. Baby sections at Walgreens stores are being rearranged. I got an email from reader Charlene last week. She was able to find Huggies Pull Ups for $1 a pack!! (I am so jealous!). If you are ever so lucky you could make money with the register rewards offer this week. I have also read that other people have found Walgreens diapers on clearance for $3 a jumbo pack. That's only 50 cents a pack after you use the coupon in the Easysaver catalog.
Meanwhile all I was able to find was Pampers training pants for girls for $6 a pack. This is what my youngest had to say about that: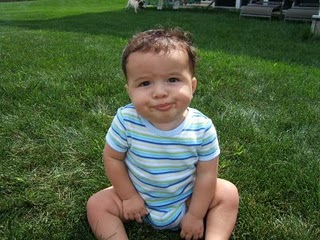 I agreed with him!