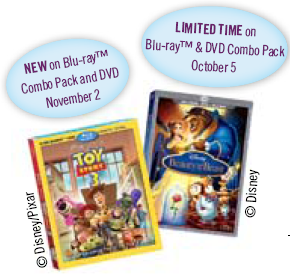 OK, here we go with another DVD/Movie deal at Toys R Us.  This is much simpler than the one I shared with you earlier and I am hoping it will work out better for all of you.  Here is is how to get the Beauty and the Beast DVD/Blu Ray Combo for $2.99 after coupons at Toys R Us:
Print the Beauty and the Beast $10 coupon.
Head to Toys R Us and do the following transaction:

Buy one Beauty & the Beast Blue-ray/DVD combo (reg. $29.99) $22.99
Plus Toy Story 3 Blu-ray/DVD combo Pre-order $5
Get $10 for pre-ordering TS3 (automatically deducted when the pre-order card is scanned)
Use $10/1 Beauty & the Beast printable
Total = $7.99 + tax

Pay $7.99 (plus tax) but $5 of those are towards Toy Story .  Plus there are these two  rebates available for up to $10 back don't forget!
Use your $5 toward Toy Story 3 when it is released.  Plus I am really crossing my fingers (and have a really good feeling) that there  will be a coupon for $10 off  Toy Story 3.  Have you watched that movie by the way?  It is SO good!  So many great messages of friendship, loyalty and more.  I must confess to you I cried, I don't want to tell which parts made me cried because I don't want to spoil the movie if you haven't watched it.  I don't usually buy any movies but Toy Story 3 I definitely want to own.
Thanks Mama Cheaps!