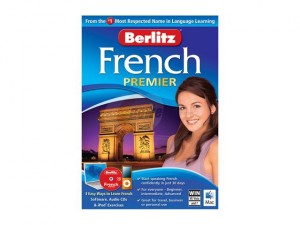 Newegg has a selection of Berlitz Language Learning software free after rebate.  The Nova Development software for Chinese/Japanese, French, Italian, English German and English is on sale for $25.  But there is a rebate offer available to get $25 back via mail.  So free after rebate.  Shipping is free.  Rebate offer is available through 8/20.
With Berlitz You Get:

Award-Winning Software for Windows and Mac
4 Berlitz Audio CDs
iPod Exercises
Flash Cards
Interactive Games
Free unlimited phone and email support
Spanish is out of stock.