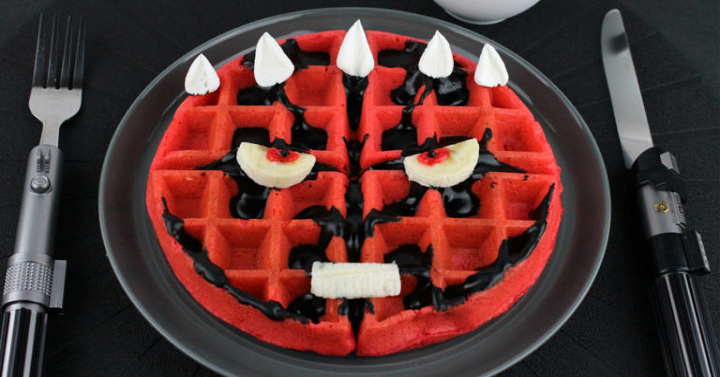 We're coming up on May 4th – Star Wars day next week so I wanted to equip you with the best activities to help you celebrate! There's lots of fun ideas out there that only require a little work if any at all and hopefully you have everything you need right at home!
Of coarse, Watch Star Wars Movies
If you're lucky enough to already have Disney Plus, you're all set! Otherwise now would be a great time to start your 7 day free trial. You'll get it just in time to enjoy all the awesome Star Wars movies.
Play Star Wars Games
I mean this seems obvious but they have tons of Star Wars games out there for your gaming system as well as your iPhone or other device. If it will arrive on time, you can get the Star Wars: Batlefront for just $14.98 right now on Amazon. There's also other options to checkout for your gaming day.
Make Darth Mual-ffles for Breakfast
I love the creativity of this breakfast! Your kids are sure to love eating these Darth Mual-ffles in the morning to get their Star Wars day starting off right!
Create an Ahsoka Tano-Inspired Bookmark
This would be fun for the creative kids you have! They'll be able to make these Ahsoka Tano-Inspired bookmarks then settle down and read their favorite Star Wars books.
Read Graphic Novels
To go along with your Star Wars bookmarks, you can checkout the FREE Star Wars graphic novels eBook available on Amazon right now. I know it's not the same, but with libraries still closed down this is a great alternative.
Build with LEGO's
Another great way to put on your creativity cap is play with LEGO's. You can build with some of the Star Wars Sets you already have or see what you can create with what you have. Either way it will be fun to recreate some of the scenes.
Enjoy Music
A simple way to fill your whole house with the spirit of Star Wars is to crank up the tunes. Ask your Alexa to play Disney Star Wars songs or see what you can find on iTunes. With all the different ways to listen to music, you're sure to find lots to listen too.