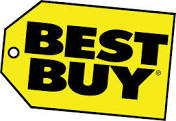 You can check out the Best Buy Black Friday ad scan HERE and the list of all store sale lists HERE!
This year, the Best Buy Black Friday sale starts at 6:00 PM on Thanksgiving, but I'm sure that many of the online deals will go live well before then, so keep checking back!
Here's a list of most of the items listed in the ad, excluding the in-store only specials. Drag the links to the items you're interested in to your bookmarks bar for quick access when the sale goes live!
Insignia 7″ Portable DVD Player with Swivel Screen
– $39.99
Insignia 9″ Dual TFT-LCD Portable DVD Player
– $89.99
Samsung Smart Wi-Fi Built-In Blu-Ray Player
– $54.99
Sony Smart 3D Wi-Fi Built-In Blu-Ray Player
– $59.99
Sony Smart Wi-Fi Built-In Blu-Ray Player
– $49.99
All iPad Air on Sale
– $319.99+
Apple iPod Nano 16GB MP3 Player (7th Generation)
– $119.99
Apple iPod Touch 64GB MP3 Player (5th Generation)
– $249.99
iPad Air 2 (16GB, 64GB, 128GB)
– $100 Off
iPad Mini 3, All Save
– $75.00
iPod Touch 16GB MP3 Player (5th Gen)
– $149.99
Zaggfolio Keyboards for Select AppleiPad Models
– $49.99
XBox One 500GB Console Kinect Assassin's Creed: Unity Bundle with FREE Xbox One Controller
– $429.99
Xbox One Console Assassin's Creed Unity Bundle
– $329.99
Wii U 32GB Console Super Mario 3D World and NintendoLand Bundle
– $359.97
Nintendo 3DS Xl with Mario Party: Island Tour
– $174.99
PS4 With Grand Theft Auto V & The Last of Us
– $399.99
Sony Playstation Camera for Playstaion 4
– $39.99
12 Years a Slave DVD
– $5.99
21 Jump Street Ultraviolet Digital Copy DVD
– $1.98
300 DVD
– $3.99
300: Rise of an Empire Blu-Ray+DVD+Digital Copy
– $7.99
42 DVD
– $3.99
Alien Anthology
– $19.99
All Insignia iPhone 6 & 6 Plus Cases
– 50% Off
Amazon Fire TV
– $74.99
American Horror Story: Asylum
– $9.99
AT&T GoPhone Nokia Lumia 635 4G NoContract Phone
– $39.99
Avatar Blu-Ray 3D Limited Edition
– $14.99
BD Robocop Trilogy Box
– $14.99
Beats by Dr. Dre Beatbox Portable Speaker
– $249.99
Beats by Dr. Dre Beats Studio Over-the-Ear Headphones
– $199.99
Beats by Dr. Dre Pill XL Portable Speaker
– $269.99
Beats by Dr. Dre Solo HD On-Ear Headphones
– $79.99
Beats by Dr. Dre urBeats Earbud Headphones
– $59.99
Big Bang Theory: The Complete Seventh Season DVD
– $9.99
Blake Shelton Bringing Back the Sunshine (Digipak) CD
– $6.99
Bond 50 (With Skyfall) Blu-Ray
– $99.99
Bones Season 8
– $7.99
Boost Mobile LG Realm No-Contract Cell Phone
– $19.99
Breaking Bad: Final Season
– $7.99
Bridesmaids DVD Unrated
– $3.99
Captain Phillips Blu-Ray+DVD+Digital Copy
– $5.99
CDs, Assorted – Up to 20 Titles to Choose From
– $1.99
CDs, Assorted – Up to 55 Titles to Choose From
– $6.99
Daria: The Complete Series
– $12.99
Dark Knight Trilogy
– $49.99
Deluxe Editions CDs – Up to 40 Titles to Choose From
– $11.99
Divergent Blu-Ray+DVD+Digital Copy
– $7.99
Django Unchained Blu-Ray
– $3.99
Doctor Who: The Day of the Doctor
– $11.99
Don Jon 2 Blu-Ray+DVD+Digital Copy
– $5.99
DropCam Wireless High Definition Video Monitoring Camera
– $99.99
Dynex Lithium-Ion Battery for Most Micro USB Enabled Devices
– $9.99
Epson PowerLite Home Cinema 730HD 720p 3LCD Projector
– $449.99
Escort Passport Radar/Laser Detector
– $179.99
Family Guy 12
– $7.99
Fargo Blu-Ray
– $3.99
Fitbit Charge Wireless Activity Tracker + Sleep Wristband
– $99.99
Fitbit Flex Wireless Activity and Sleep Tracker Wristband
– $79.99
Foo Fighters Sonic Highways CD
– $6.99
Frozen Original Motion Picture Soundtrack CD
– $6.99
Garmin Forerunner 10 GPS Watch
– $99.99
Garmin Forerunner 15 GPS Watch
– $139.99
Garmin vivofit Fitness Band
– $79.99
Godzilla 2014 Blu-Ray+DVD+Digital Copy
– $7.99
Good Will Hunting DVD
– $1.99
Google Chromecast HDMI Streaming Media Player, Get 2 Months of HULU PLUS FREE
– $23.99
Gravity Blu-Ray+DVD+Digital Copy
– $7.99
Griffin Survivor for iPad
– $20 Off
Grimm Season 2
– $7.99
Grimm Season 2 Blu-Ray
– $12.99
Hercules DVD
– $5.99
Hot Tub Time Machine (Unrated & Remastered) DVD
– $1.99
How to Train Your Dragon 2 Blu-Ray 3D
– $19.99
How to Train Your Dragon 2 Blu-Ray+DVD+Digital HD
– $9.99
iLive CD+G Karoke System
– $69.99
Insignia 200W 2.0-Ch Stereo Receiver
– $79.99
Insignia 6′ Digital Optical Audio Cable
– $8.99
Insignia 6′ HDMI Cable
– $9.99
Insignia 7″, 8″, & 10″ Universal Folios, Select
– $9.99
Insignia 8′ HDMI Cable & 8-Outlet Surge Protector
– $19.98
Insignia Soundbar with Bluetooth
– $59.99
Insignia TV Stand for Most Flat Panel TVs up to 47″
– $89.99
Jam Classic Portable Speakers
– $19.99
Jawbone UP24 Wristband
– $79.99
JBL Charge Portable Indoor/outdoor Bluetooth Speaker
– $89.99
JBL Pulse Portable Bluetooth Speaker
– $149.99
Jurassic Park 3D Blu-Ray
– $19.99
Justified: The Complete Fourth Season
– $9.99
Kill Bill Vol 1 DVD
– $1.99
Kill Bill Vol 2 DVD
– $1.99
Klipsch Reference 5-1/4″ Bookshelf Speakers (Pair)
– $124.99
Klipsch Reference Dual 6-1/2″ Floorstanding Speaker (Pair)
– $174.99
Klipsch Reference Dual 8″ Floorstanding Speaker
– $224.99
Knocked Up 2 Disc Collector's Edition
– $1.99
Lego Movie Blu-Ray+DVD+Digital Copy
– $3.99
LG 500W Mini Audio System
– $159.99
LG G3 4G Cell Phone with 2 Year Activation
– $1.00
LG Tone+ Bluetooth Headset
– $39.99
Linksys AC1600 802.11ac Smart Wi-Fi Router
– $89.99
Live Die Repeat: Edge of Tomorrow Blu-Ray+DVD+Digital Copy
– $7.99
Logitech C310 Webcam
– $19.99
Logitech G502 Proteus Core Optical Gaming Mouse + FREE $50 Steam Card
– $79.99
Logitech Harmony Advanced Universal Remote
– $59.99
Logitech K400 Wireless Keyboard Black
– $19.99
Logitech M325 Wireless Mouse
– $8.99
Logitech Z313 2.1 Channel Speaker System (3 Piece)
– $24.99
Lone Survivor Blu-Ray+DVD+Digital Copy
– $7.99
Mach Speed Eclipse 4GB MP3 Player
– $11.99
Maleficent Blu-Ray+DVD+Digital HD
– $9.99
Mallrats (Colelctor's Edition) DVD
– $1.99
Mentalist: Complete Fifth Season
– $11.99
Misfit Flash Activity Tracker
– $24.99
Morphie Portable Power, Select
– $40.00 Off
Neighbors DVD
– $7.99
Nest Learning Thermostat (2nd Gen) in Stainless Steel
– $199.99
NETGEAR AC1200 Dual Band Wireless AC Router
– $59.99
Nike+ Sportwatch GPS Powered by TomTom with Shoe Pod Sensor
– $109.99
Onkyo 1155W 7.2-Ch 4K Ultra HD A/V Home Theater Receiver
– $449.99
Orange is the New Black: Season One Blu-ray
– $9.99
Orphan Black: Season 2
– $11.99
Pebble Smart watch for Select Apple and Android Devices
– $79.99
Pebble Smart Watch for Select iOS and Android Devices
– $79.99
Pebble Steel Smart Watch for Select iOS and Android Devices
– $149.99
Philips A19 or BR30 Starter Kit with FREE Bloom Accent Light ($79 Value)
– $199.99
Pioneer Built-In Bluetooth Apple iPod Ready In-Dash Receiver with Detachable Faceplate
– $59.99
Pioneer CD Built-in Bluetooth, Apple iPod Ready In-Dash Receiver with Detachable Faceplate
– $89.99
Pioneer CD Star Stereo Receiver
– $39.99
Plantronics M95 Bluetooth Headset
– $24.99
PNY Optima 120GB Internal Serial ATA III Solid State Drive for Laptops
– $48.99
Pretty Little Liars: The Complete Fourth Season
– $9.99
Psych: The Complete Series
– $94.99
Raiders of the Lost Ark Blu-Ray
– $3.99
Rio 2 Blu-Ray 3D
– $19.99
Rise of the Planet of the Apes Blu-Ray
– $3.99
RoboCop Blu-Ray+DVD+Digital Copy
– $5.99
Rocketfish 8′ In-Wall HDMI Cable & 7-Outlet Surge Protector
– $39.98
Rocketfish Stylus
– $3.99
Roku Streaming Stick HDMI Version
– $39.99
Sam Smith – In the Lonely Hour CD
– $6.99
Samsung 4 Series 500W 5.1-Ch 3D/Smart Blu-Ray Home Theater System
– $159.99
Samsung 400 Series 2.1 Channel Soundbar with 6 1/2″ Wireless Subwoofer
– $157.99
Samsung 64GB microSD Class 10 UHS-1 Memory Card
– $24.99
Samsung Galaxy S 5 With 2 Year Activation
– $1.00
Samsung Gear Fit Fitness Watch with Heart Rate Monitor
– $99.99
Samsung Level On-Ear Headphones
– $99.99
Samsung S-View Flip Cover for Samsung Galaxy S5 Cell Phones
– $24.99
Samsung Tablet and Mobile Phone Covers
– 50% Off
SanDisk ClipSport 8GB MP3 Player
– $34.99
SanDisk Cruzer 16GB USB 2.0 Flash Drive
– $4.99
SanDisk Cruzer 32GB USB 2.0 Flash Drive
– $7.99
SanDisk Cruzer Glide 128GB USB 2.0 Flash Drive
– $27.99
SanDisk Cruzer Glide 64GB USB 2.0 Flash Drive
– $16.99
SanDisk iXpand 32GB USB 2.0/Lightning Flash Drive
– $54.99
SanDisk Ultra 32GB USB 3.0 Flash Drive
– $11.99
Savages 2 Disc Unrated DVD
– $3.99
Seagate 1TB Internal Serial ATA Hard Drive for Desktops
– $49.99
Seagate Backup Plus 2TB External USB 3.0/2.0 Portable Hard Drive
– $79.99
Seagate Backup Plus 5TB External USB 3.0/2.0 Hard Drive
– $139.99
Seinfield: The Complete Series
– $74.99
Sin City DVD
– $1.99
Skullcandy Jib Earbuds
– $4.99
Smallville: The Final Season
– $7.99
Solo PRO Padded Ultrabook Laptop Sleeve
– $9.99
Solo Urban Laptop Briefcase
– $14.99
Sony 2.1 Channel Soundbar with 100W Wireless Subwoofer
– $249.99
Sony NWZ-E380 Series Walkman 16GB Video MP3 Player
– $69.99
Sony Xperia T2 Ultra 4G Cell Phone (Unlocked)
– $199.99
Sony ZX Series On-Ear Headphones
– $9.99
Spartacus Gods of the Arena
– $7.99
Sprint Prepaid Samsung Galaxy S III 4G No Contract Cell Phone
– $79.99
Star Wars: The Complete Saga
– $74.99
T-Mobile Prepaid Alcatel OneTouch Evolve 2
– $24.99
T.I. Paperwork (PA) CD
– $6.99
Targus Ascend Backpack Laptop Case
– $9.99
Targus Dual Fan Chill Mat
– $9.99
Taylor Swift 1989 CD
– $6.99
The Amazing Spider-Man 2 Blu-Ray 3D
– $19.99
The Amazing Spider-Man 2 DVD+Digital Copy
– $7.99
The Dark Knight Rises DVD
– $3.99
The Hunger Games Blu-Ray
– $5.99
The Hunger Games Cathing Fire: Blu-Ray+DVD+Digital Copy
– $7.99
The King of Queens: The Complete Series
– $24.99
The Musketeers: Season 1
– $11.99
The Nut Job DVD
– $5.99
The Shield: The Complete Series
– $24.99
The Wizard of Oz 75th Anniversary Blu-Ray
– $5.99
Tracfone LG Ultimate 2 No Contract Phone
– $29.99
Transformers Age of Extinction Blu-Ray+DVD+Digital Copy
– $5.99
Transformers Dark Side of the Moon DVD
– $1.99
Transformers: Revenge of the Fallen DVD
– $1.99
Vikings: Season 1
– $9.99
Viper 1 Way Remote Start System with Geek Squad Installation
– $199.99
Virgin Mobile HTC Desire 510 4G No Contract Phone
– $29.99
Vizio 2.0 Channel Soundbar
– $99.99
Vizio 5.1 Channel Soundbar System with 8″ Wireless Subwoofer
– $349.99
Walking Dead: The Complete First Season Blu-Ray
– $9.99
Walking with Dinosaurs DVD
– $5.99
We're The Millers Extended Cut Blu-Ray+DVD+Digital Copy
– $7.99
X-Men Days of Future Past Blu-Ray
– $9.99
X-Men Days of Future Past Blu-Ray 3D
– $19.99
Yamaha Portable Keyboard with 61 Full Size Keys
– $64.99
Yurbuds Ironman Inspire Duro Earbud Headphones
– $19.99
Zubie Vehicle Tracking and Engine Diagnostic Device
– $59.99
Pre-Owned Games
– Buy 2 Get 1
Disney Infinity Single Figures 3 for
– $33.00
Disney Infinity: Marvel Super Heroes (2.0 Edition) Starter Pack
– $39.99
Disney Infinity: Toy Box Starter Pack (2.0 Edition)
– $39.99
Nintendo 3DS Teenage Mutant Ninja Turtles: Danger of the Ooze
– $14.99
Nintendo ESHOP Cards
– 15% Off
PC The Elder Scrolls Anthology
– $14.99
Playstation 3 Destiny
– $44.99
PS3 All-Starts Battle Royale
– $7.99
PS3 Dark Souls II
– $14.99
PS3 Sly Cooper: Thieves in Time
– $7.99
PS3 WWE 2K15
– $29.99
PS4 Alien: Isolation Nostromo Edition
– $29.99
PS4 Controller
– $39.99
PS4 Diablo III: Reaper of Souls
– $29.99
PS4 Diablo Reaper of Souls
– $29.99
PS4 Infamous: Second Son
– $19.99
PS4 Killzone: Shadow Fall
– $19.99
PS4 Lego Marvel Super Heroes
– $14.99
PS4 Lego Movie
– $24.99
PS4 MLB 14: The Show
– $19.99
PS4 NBA 2K15
– $29.99
PS4 NBA 2K15
– $29.99
PS4 Sleeping Dogs: Definitive Edition
– $29.99
PS4 The EVil Within
– $24.99
PS4 Wolfenstein: The New Order
– $24.99
PS4: Middle Earth: Shadow of Mordor
– $24.99
Skylanders Trap team Starter Pack
– $49.99
Skylanders Trap Team Starter Pack with FREE Volcanic Eruptor
– $49.99
The Sims 4 Limited Edition for PC
– $29.99
Turtle Beach Ear Force PX4 Wireless Dolby Surround Sound Gaming Headphones
– $79.99
Turtle Beach Ear Force Xbox One Wired Stereo Gaming Headset
– $39.99
Wii U Just Dance 2015
– $24.99
Xbox 360 Borderlands: The Pre-Sequel
– $29.99
Xbox 360 Call of Duty: Advanced Warfare
– $44.99
XBox 360 Call of Duty: Black Ops II
– $14.99
XBox 360 Dishonored: Game of the Year Edition
– $7.99
XBox 360 Metal gear Rising: Revengence
– $7.99
Xbox 360 Street Fighter IV Platinum Hits
– $7.99
Xbox 360 The Elder Scrolls V: Skyrim
– $7.99
XBox One Call of Duty: Ghosts
– $19.99
Xbox One Controller
– $39.99
Xbox One Dead Rising
– $24.99
XBox One Disney Fantasia: Music Evolved
– $29.99
XBox One FIFA 15
– $29.99
XBox One FIFA15
– $29.99
Xbox One Forza 5
– $24.99
Xbox One Just Dance 2015
– $24.99
XBox One Killer Instinct: Combo Breaker
– $14.99
Xbox One Lego Movie
– $24.99
XBox One Madden NFL 15
– $29.99
XBox One Madden NFL 15
– $29.99
XBox One Ryse: Son of Rome Legendary
– $29.99
Xbox One Shadow of Mordor
– $24.99
Xbox One The Evil Within
– $24.99
XBox One The Wakling Dead Season Two
– $19.99
Xbox One Titanfall
– $24.99
XBox One Tomb Raider: Definitive Edition
– $19.99
XBox One Watch Dogs
– $29.99
Xbox One Watch Dogs
– $29.99
ASUS MeMo Pad 7 with Case & 8GB Memory Card Package
– $99.99
ASUS Transformer Pad with Intel Atom 16GB
– $179.99
DigiLand 10.1″ 16GB
– $69.99
DigiLand 7″ 8GB Black
– $39.99
DigiLand DL 7″ Tablet, Case, & Screen Cleaner Package
– $54.99
Kindle 6″ 4GB
– $49.99
Kindle Fire HD 6″ 8GB
– $79.99
Microsoft Surface 2 32GB Magnesium
– $299.99
Samsung Galaxy Tab 3 Kids Edition 7″ 8GB Yellow with Orange Case
– $129.99
Samsung Galaxy Tab 4 7.0 8GB
– $149.99
Samsung Galaxy Tab Pro 8.4 16GB
– $199.99
Samsung Galaxy Tab S 10.5, 16GB
– $399.99
Targus Versavu iPad Cases
– $19.99
Windows 8 10.1″ Tablet & Keyboard Package
– $199.98
Windows 8 10.1″ Tablet 32GB Gray
– $149.99
Dell 23″ Widescreen Flat Panel IPS LED HD Monitor
– $149.99
Dell 24″ LED HD Monitor
– $99.99
LG 27″ IPS LED HD Monitor
– $179.99
Samsung UD590 Series 28″ LED 4K UHD Monitor
– $479.99
Brother Black and White Laser Pritner
– $49.99
Brother Network-Ready Wireless Black and White All-in-One Laser Printer
– $199.99
Canon ImageCLASS MF4770n Network-Ready Black and White All-in-One Printer
– $84.99
Canon PIXMA MX472 Wireless All-inOne Printer
– $44.99
Epson Expression Premium XP 610 Small-in-One Wireless All-in-One Printer
– $59.99
HP Deskjet 2544 Wireless All-in-One Printer
– $26.99
HP Envy 4500 Network Ready Wireless e-All-in-One Printer
– $49.99
HP Officejet Pro 6830 Network-Ready Wireless e-All-in-One Printer
– $99.99
HP Photosmart 6520 Wireless e-All-in-One Printer
– $69.99
HP Photosmart 7525 Wireless All-in-One Printer
– $99.99
The Neat Company NeatDesk for PC and Mac Scanner
– $299.99
The Neat Company NeatReceipts for PC and Mac Portable Scanner
– $99.99
Acer Aspire 23″ Touch Screen All-in-One Computer with Intel Core i3 Processor, 8GB Memory, 1 TB Hard Drive
– $649.99
Apple 21.5″ iMac Intel Core i5 with 8GB Memory & 500GB Hard Drive
– $899.99
Apple 27″ iMac 8GB Memory, 1TB Hard Drive,
– $1,649.99
Dell Inspiron Desktop with Intel Core i5 Processor, 8GB memory, 1TB Hard Drive
– $429.99
Dell Tower + 24″ LED HD Widescreen Monitor with Intel Cord i5 Processor
– $499.98
HP 21.5″ Touch Screen All-in-One AMD 41 Series 4GB Memory 500GB Hard Drive
– $369.99
HP Desktop Intel Core i3 Processor, 8GB Memory, 1TB Hard Drive
– $379.99
HP Tower + 20″ LCD LED Widescreen Monitor with Intel Core i3 Processor
– $449.98
Lenovo Desktop 4GB Memory 500GB Hard Drive with Intel Celeron
– $219.99
Acer Chromebook with Intel Celeron, 2GB Memory, 16GB eMMC Flash
– $149.00
Apple Macbook Air (Latest Model) 11.6″ Display Intel Core i5, 4GB Ram, 128GB HDD
– $779.99
Apple MacBook Air (Latest Model) 13.3″ Display, Intel Core i5
– $1,049.99
Apple MacBook Pro with 13.3″ Retina Display, 8GB Memory 256GB Flash Storage
– $1,349.99
Apple MacBook Pro with Intel Cord i5 13.3″ Display 4GB Memory
– $899.99
Asus 15.6″ Laptop Intel Core i3 4GB Memory, 500GB HDD
– $249.99
Dell Inspiron 15.6″ Touch Screen Laptop with Intel Core i3 4 GB Memory
– $299.99
HP Envy TouchSmart 15.6″ Touch Screen, Intel Core i5
– $499.99
HP Envy x360 2-in-1 15.6″ Touch-Screen Laptop with Intel Core i5
– $599.99
HP Pavilion 15.6″ Laptop 6GB Memory 750GB Hard Drive
– $549.99
HP Pavilion 17.3″ Laptop Intel Core i5 4GB Memory 750GB Hard Drive
– $399.99
Lenovo Yoga 2 Pro 2-in-1 13.3″ Touch-Screen Laptop with Intel Core i7
– $999.99
Toshiba Radius 11 2-in-1 11.6″ Touch-Screen Laptop with Intel Celeron 4GB Memory
– $329.99
Toshiba Radius 2-in-1 15.6″ Touch-Screen Laptop with Intel Core i7
– $699.99
Adobe Photoshop Elements 13 for Mac/Windows
– $59.99
Easy VHS to DVD 3+ for Windows
– $35.99
Trend Micro Premium Security 1 Year Subscription for up to 5 Devices
– $29.99
Canon EO5 70D DSLR Camera with 18-135mm IS STM Lens
– $1,349.99
Canon EOS Rebel SL1 DSLR Camera with 18-55mm IS STM Lens
– $549.99
Canon EOS Rebel T5 DSLR Camera with 18-55mm IS Lens
– $399.99
Canon EOS Rebel T5 DSLR Camera with Ultra Plus 16GB Memory Card, 75-300mm Zoom Lens, and Bag Bundle
– $449.96
Canon EOS Rebel T5i DSLR Camera with 18-55mm IS STM Lens
– $649.99
Canon PowerShot Elph340 16.0 Megapixel Digital Camera
– $129.99
Canon PowerShot SX520 HS 16.0 Megapixel Digital Camera
– $249.99
Canon Rebel T3i DSLR Camera with EF-S 18-55mm Zoom lens, EF 75-300mm III Lens, 16GB SD Card, Bag
– $499.99
Canon VIXIA HF R500 HD Flash Memory Camcorder + FREE 32GB Ultra Plus Memory Card
– $169.99
GoPro Hero3+ Silver Edition Camera with FREE 16GB Extreme Plus Memory Card and LCD Touch Bacpac
– $249.99
Lowepro Format 110 Camera Bag Sunpak PlatinumPlus 5858D 58in Tripod
– $20.00
Nikon Coolpix P600 16.1 Megapixel Digital Camera
– $399.99
Nikon Coolpix S9600 16.0 Megapixel Digital Camera with FREE Memory Card and Camera Bag
– $149.99
Nikon Coolpiz L830 16.0 Megapixel Digital Camera with FREE Memory Card and Camera Bag
– $169.99
Nikon Coolpiz P530 16.1 Megapixel Digital Camera
– $299.99
Nikon D3200 DSLR Camera with 18-55mm and 55-200mm Lens w/ FREE 16GB Memory Card
– $499.99
Nikon D3300 DSLR Camera with 18-55mm VR Lens
– $499.99
Nikon D5300 DSLR Camera with 18-55mm VR Lens
– $799.99
Nikon D7000 DSLR Camera +Ultra Plus 32GB SD Card + 55-300mm Zoom Lens Bundle
– $1,099.96
Nikon D7000 DSLR Camera with 18-140mm VR Lens
– $799.99
Samsung F90BN HD Flash Memory Camcorder + FREE 16GB Ultra Plus Memory Card
– $129.99
Samsung Galaxy 2 16.3 Megapixel Digital Camera with FREE 16GB Memory Card
– $349.99
Samsung WB350F 16.3 Megapixel Digital Camera with FREE Camera Case and 8GB memory Card
– $149.99
Sony Alpha a5000 Compact System Camera with 16-50mm Retractable Lens
– $299.99
Sony Alpha a6000 Compact System Camera with 16-50mm Retractable Lens
– $599.99
Sony AS20 HD ACtion Cam + FREE 16GB Memory Card
– $99.99
Sony DSC W800 20.1 Megapixel Digital Camera
– $69.99
Sony DSC W830 20.1 Megapixel Digital Camera
– $79.99
Sony HDR-CX240 HD Flash Memory Camcorder + FREE 16GB Memory Card
– $129.99
Sony HDR-CX330 HD Flash Memory Camcorder
– $219.99
Garmin nuvi 2959LMT 5″ Built-in Bluetooth Lifetime Map Updates
– $119.99
Garmin nuvi 52LM Essential Series 5″ with Lifetime Map Updates
– $79.99
Insignia 29″ Class LED 720p 60Hz HDTV
– $99.99
Insignia 40″ Class LED 1080p 60Hz HDTV
– $179.99
LG 55″ Class LED 2160p 120Hz Smart 4K Ultra HD TV
– $1,299.99
LG 32″ Class LED 720p HDTV
– $179.99
LG 49″ Class LED 1080p HDTV
– $399.99
LG 55″ Class LED 1080p 120Hz Smart HDTV
– $779.99
LG 55″ Class LED 1080p HDTV
– $479.99
LG 65″ Class LED 1080p HDTV
– $799.99
Panasonic 50″ Class LED 1080p 60Hz HDTV
– $199.99
Panasonic 55″ Class LED 1080p 120Hz Smart HDTV
– $599.99
Samsung 24″ Class LED 720p 60Hz HDTV
– $127.99
Samsung 24″ Class LED 720p 60Hz Smart HDTV
– $149.99
Samsung 32″ Class LED 1080p 60Hz HDTV
– $227.99
Samsung 32″ Class LED 1080p 60Hz Smart HDTV
– $247.99
Samsung 32″ Class LED 720p 60Hz HDTV
– $199.99
Samsung 40″ Class LED 1080p 120Hz Smart HDTV
– $379.99
Samsung 40″ Class LED 1080p 60Hz HDTV
– $297.99
Samsung 40″ Class LED 1080p 60Hz Smart HDTV
– $327.99
Samsung 46″ Class LED 1080p 60Hz HDTV
– $399.99
Samsung 50″ Class LED 1080p 60Hz Smart HDTV
– $497.99
Samsung 55″ Class LED 1080p 120Hz Smart HDTV
– $599.99
Samsung 55″ Class LED 1080p 240Hz Smart LED HDTV
– $997.99
Samsung 55″ Class LED 2160p Smart 4K Ultra HD TV
– $899.99
Samsung 55″ Class LED Curved 4K 120Hz Smart LED HDTV
– $1,299.99
Samsung 60″ Class LED 1080p 120Hz Smart HDTV
– $799.99
Samsung 60″ Class LED 1080p 240Hz Smart LED HDTV
– $1,297.99
Samsung 65″ Class LED 1080p 240Hz Smart LED HDTV
– $1,497.99
Sharp 50″ Class LED 1080p HDTV
– $399.99
Sharp AQUOS 60″ Class LED 1080p Smart HDTV
– $699.99
Sharp AQUOS Q+ Series 70″ Class LED 1080p 240Hz Smart LED 3D HDTV
– $1,799.99
Sony 32″ Class LED 720p 60Hz HDTV
– $189.99
Sony 55″ Class LED 4K Ultra HDTV 2160p 120Hz Smart LED HDTV
– $1,499.99
Sony 60″ Class LED 1080p 120hz Smart HDTV
– $799.99
Vizio 50″ Class LED 1080p 240Hz Smart HDTV
– $499.99
Vizio P-Series 55″ Class LED 2160p 240Hz LED Smart HDTV
– $1,299.99
Westinghouse 40″ Class LED 1080p 60Hz HDTV
– $199.99
Crane 1-Gal ultrasonic Drop Shape Humidifier
– $29.99
Dyson AM05 Hot+Cool Fan Heater
– $299.99
Dyson DC44 Origin Bagless Cordless 2-in-1 Stick Vacuum
– $219.99
Dyson DC59 Animal Bagless Cordless Stick Vacuum
– $349.99
Dyson DC65 Animal Bagless Upright Vacuum
– $449.99
Hoover WindTunnel Air HEPA Bagless Upright Vacuum
– $79.99
Insignia Fixed TV Wall Mount for Most 40″-70″ Flat Panel TVs
– $29.99
Insignia TV Stand for Most Flat Panel TVs up to 47″
– $89.99
Rocketfish Tilting TV Wall Mount for Most 32″-70″ Flat Panel TVs
– $49.99
Sanus Premium Full-Motion TV Wall Mount for Most 40″-50″ TVs
– $129.99
Shark Lift-Away Professional Steam Pocket Mop
– $99.99
Braun 7-790CC Shaving System
– $149.99
Capital Brands NutriBullet 24oz Nutrient Extractor
– $79.99
Conair Infiniti Pro Hair Dryer
– $24.99
KitchenAid Classic Stand Mixer
– $199.99
Oster 10 Speed Blender
– $14.99
Oster 16 Speed Blender
– $29.99
Oster Inspire 2 Slice Wide Slot Toaster
– $14.99
Panasonic Electric Toothbrush
– $99.99
Panasonic Nose and Facial Hair Trimmer
– $9.99
Philips Norelco Click & Style All-in-One Electric Shaver
– $49.99
Philips Sonicare 2 Series Plaque Control Electric Toothbrush
– $49.99
Philips Sonicare Easy Clean Toothbrush
– $79.99
Sandwich Maker
– $7.99
Waffle Maker
– $7.99
West Bend Stir Crazy 6-Quart Corn Popper
– $24.99