How do you get the best hotel deals for your Disneyland vacation? Book through Get Away Today. Not only do they have discount Disneyland tickets, but they also specialize in Disneyland packages. By using promo code F2Deals you can get an additional $10 off your Southern California vacation package.
Let's talk about the amazing hotel perks and benefits you'll get by booking your Disneyland packages through Get Away Today. You will get a choice between a value, moderate, deluxe or Disney property, all at a discounted rate. Select hotels offer free breakfast, free nights and free or discounted parking and resort rates. We all love FREE! So let's talk more about these free specials and the select hotels where you can find them.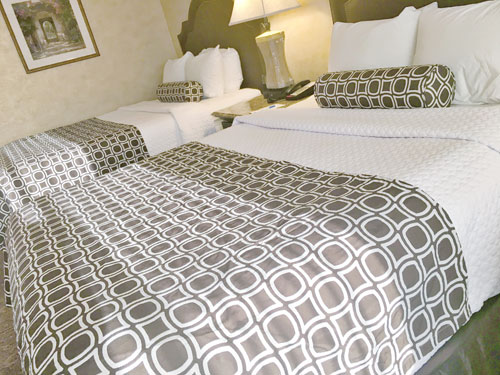 Free Breakfast:
Everyone loves free food, especially breakfast. Select hotels offer this meal for free, and some are even exclusively to Get Away Today guests. Some of our favorite free breakfast hotels include Embassy Suites, Holiday Inn Anaheim Resort, Clarion, Hyatt Place, Wyndham Garden Grove and more. Depending on the hotel, this meal can range between a continental style to a full hot breakfast buffet that you and your stomach won't want to miss!
Free Parking:
It's so exciting to plan, travel and finally arrive at your vacation destination. What makes it a tiny less fun is when you have to pay for parking. Get Away Today works with many Disneyland area hotels that offer free or discounted parking, some exclusive to Get Away Today guests. Castle Inn & Suites, ALO Hotel by Ayres, Hotel Menage, Clarion Hotel and Staybridge Suites by Holiday Inn, all offer free parking.
Free Nights:
What's better than a 2-night hotel stay? A 3-night hotel stay, especially when that 3rd night is free! Lucky for you, Get Away Today can help you get 3rd, 4th or even 5th night free specials at select hotels. Dates may vary but some of these hotels include Wyndham Garden Grove, Sheraton Garden Grove and Anaheim Marriott Hotel. The hotels and dates for free nights fill up quickly, so make sure to book your Disneyland packages soon!
No matter which hotel you choose, you are guaranteed the best value and perks by booking through Get Away Today. Check out their website at getawaytoday.com and use the filter to see which hotels offer which perks. Remember to use promo code F2Deals to get an additional $10 off your Southern California vacation package, too!