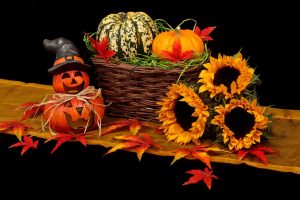 Okay, there is simply no sugar coating it. My house was flat cold this morning when I woke up. While I did wish I had slept with a heavier blanket, I was so excited! I love when the chill hits the air because that means it's time for me to decorate for fall! My husband is not a fan of me decorating for fall when it's still hot outside so I like to wait and now it's time. 
I have a great selection of fall décor from year's past, but I am wanting to add a little bit of new stuff this year, so that means it's time to go shopping. I've been decorating my own home for decades now so I'm familiar with the best places to find deals on fall décor and thought I would share those with you here. 
The Best Places to Find Deals on Fall Décor
Here are all of the best places I have found to find deals on fall décor:
Amazon 
Amazon is a place to find just about everything and if you don't love shopping in store these days, it's a great option. 
Dollar Tree
I love shopping at Dollar Tree for fall décor. Much of my fall décor involves fake flowers and foliage and the dollar store is the cheapest places to find this type of stuff! I use it for wreaths, for shelf décor and I also use it to add to clear vases with battery operated lights. 
FB Marketplace
I love FB Marketplace. It's a great place to find super great deals on décor that people are wanting to get rid of. 
BuyNothing Groups
While on FB be sure to check out your local BuyNothing groups and you can likely find great stuff for free! BuyNothing Groups are awesome for finding great stuff for your home like décor, furniture and more. 
Thrift Shop
Check out your local charity or thrift shops for some seriously great deals on fall decor items. In my local community we have multiple thrift shops, one of which is often extremely cheap. I love finding treasures here! 
Where do you like to find your fall decor deals?