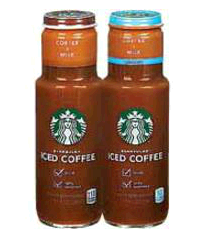 Here's a list of some of the best Walgreens deals starting tomorrow, 4/6/14!
Keep in mind that this isn't a complete list, so be sure to check your local Walgreens fliers for more deals. I'll also add more throughout the week.
*Sunday ONLY* Buy (2) Caress body washes @ $4.39 BOGO Free
Use (2) $2/1 Caress Bars or Body Wash (3/23/14 SS, exp 4/6/14)

Final Price: $.39 wyb 2 ($.20 each!)
Buy (2) 16oz Coffee-Mate Creamer @ 2/$3
Buy (2) Hefty One Zip Bags @ $2.99 BOGO FREE
Register Rewards and Balance Reward Points
*HOT* Buy (1) 11oz Starbucks Iced Coffee @  $0.99

Pay $.99 out of pocket
Get $.99 Register Rewards (Not sure of the limit on this.)

Final Cost: FREE!
Buy (4) Garnier Shampoo, Conditioner, or Stylers  @  2/$6 ($12)
Use (4) $2/1 Garnier Shampoo, Conditioner, Treatment or Style Product (3/02/14 RP)
Pay $4 out of pocket
Get 2,000 Point (~$2) when you spend $10

Final Cost: $2 wyb 4 ($.50 each)
Buy (2) Speed Stick Gear Antiperspirant / deodorant @ 2/$8
Buy (2) General Mills cereals (select varieties) @ 2/$5
Buy (2) Rolaids Antacid Tablets @ 2/$8
Use (1) B1G1 Rolaids Tablet Bottle  (4/6/14 RP)
Pay $4 out of pocket
Get 3,000 Points (~$3) when you buy 2

Final Cost: $1 wyb 2 ($.50 each)
Buy (6) Campbell's Homestyle Chicken Noodle Soups @ 3/$5 ($10)
Pay $7.75 out of pocket
Get 1,000 (~$1) wyb 3 – 2,000 Points (~$2)

Final Cost: $5.75 when you buy 6 ($.96 each)
Buy (2) 21oz or 24oz Enfagrow Premium Toddler Formula @ $17.99 each ($35.98)
Pay $30 out of pocket
Get 5,000 Points (~$5) when you spend $35+

Final Cost: $25 when you buy 2 ($12.50 each)