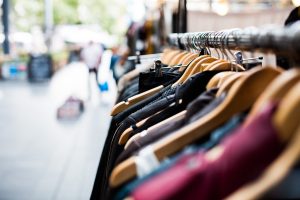 Are you trying to minimize the clutter in your home? A great place to start is with your closets and dressers. Most of us are hanging on to clothing that we are never going to wear again and let me tell you, a cleaned out closet feels amazing, while an overcrowded closet can be overwhelming and frustrating. 
So let's get rid of those clothes! Chances are you spent a lot of money on these clothes over the years though, so I know that you are wondering about the best ways to make money from clothes you no longer wear. That's why I have put together this list for you! I have personally used all of these avenues to make money off of clothes that I no longer wear. I hope you will find success with them as well! 
The Best Ways to Make Money from Clothes You No Longer Wear
In order to sell clothing, it needs to be in great shape and in fashion. Retro clothing is often a good seller too. Lower end brands don't tend to sell well unless you are selling in a lot. If your clothing is in bad repair, you need to toss it. If it is a lower end brand, donate. If your stuff is a good brand and in good shape, check out these places to sell. 
Ebay is a great way to sell all sorts of things, starting with clothing! I have sold countless clothing items on Ebay with great success. 
I have had the most success selling on Mercari. I love this app, it makes the selling process incredibly easy! 
Poshmark is a great app for selling clothing because that is literally all you can sell! It tends to be a little better for higher end clothing, but that's a great way to make some money on your top brand fashion.
OfferUp is a great app used to sell locally. I have used it to sell clothes, furniture, video games and more. 
You are always on FB anyway, right? You may as well make some money while you are there! This is great for local sales and not having to ship items.