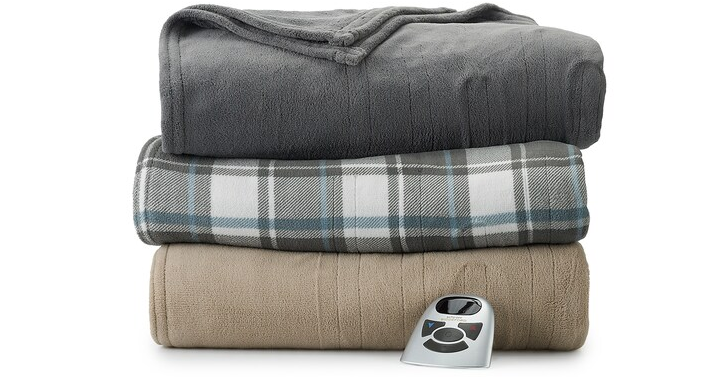 It's one of my favorite times to shop – the time when Kohls.com has great coupon codes and sales! The deals are always so great! There are some really great deals like this one:
Add the Biddeford Electric Heated Microplush Blanket – Queen Size to your cart for $79.99. (Reg. price $159.99)
Add coupon code GIVING30, ENTERTAIN15 and NOVMVCFREE.
The total for this will be just $48.99! Plus earn $10 in Kohl's Cash!
(Why Kohl's Cash on a purchase under $50? If you make a purchase within $2 of the Kohl's Cash earned criteria, you will receive Kohl's Cash. For example, if you place an order of $48, Kohl's will round that purchase up to $50 and distribute $10 Kohl's Cash.)
Percent Off Codes:
Take an extra 30% off your purchase with your Kohl's card – GIVING30 – exp 11/17
Take an extra 15% off a $100+ purchase – CATCH15OFF – exp 12/25
Take an extra 15% off any purchase – SAVE15 – exp 11/17
– Save by signing up for Kohl's mobile sale alerts. Just text SAVE24 to 56457 and you'll score a unique discount code valid for 15% off your online purchase.
– Register for the Kohl's email newsletter and you'll get 15% off your next purchase, plus daily Kohl's coupons and promos emailed to you every single day.
Will Stack With:
Take an extra $10 off a $50 Home Sale purchase – ENTERTAIN15 – exp 11/17
Take an extra 20% off a Fine and Silver Jewelry purchase – DIAMOND20 – exp 11/17
Free Shipping with your Kohl's Card – NOVMVCFREE – exp 11/17
or
Free Shipping on $75. No code required.
or
BUY ONLINE. FREE STORE PICKUP. MOST ORDERS READY IN 2 HOURS.
Earn $10 in Kohl's Cash for every $50 you spend from 11/07-11/14. (Redeem 11/15-11/20.)
Redeem your previously earned Kohl's Cash from now – 11/14.