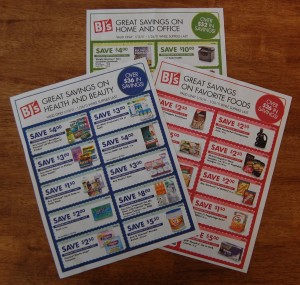 If you are a member of BJ's Warehouse club, here are some deals you can take advantage of.  Just to refresh your memory, the great thing about BJ's is that you can use manufacturer coupons on their products.  Also, you are able to use one coupon per item.  So for example if the box of Pampers diapers has two bags of diaper, you can use two coupons on the one box.  Also, you can combine one BJ's coupon with manufacturer coupons to score some great deals.  Here are some of the best deals using the bi-weekly circulars available in store:
Buy Muir Glen Tomatoes $6.99
Use $2.50/1 BJ's Coupon from in-store Red Flyer
Use two $1/1 Muir Glen Product (IE) Printable (FF)
Use three $0.75/1 Muir Glen Tomatoes
Pay $0.24 for 6 cans of tomatoes (4¢ each) – save 97%
Buy Sabra Hummus $5.99
Use $2.50/1 BJ's Coupon from in store red flyer
Use $1/1 Sabra Product 1/23/2011 SS Insert (exp 2/28/2011) or $1/1 Sabra printable
Pay $2.49 for 30 oz. of hummus– save 58%
Buy Jergen's $9.99
Use $3/1 BJ's Coupon from in store blue flyer
Use three Use $1/1 Jergens Natural Glow Moisturizer Product or from 1/16 SS insert
Pay $3.99 for 3 bottles of lotion ($1.33 each) – save 60%
For even more coupon BJ's match ups, stop by Frugal Jacksonville Mom.