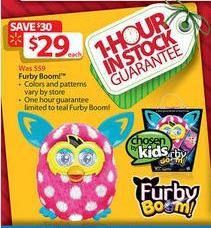 Remember when I thought the $40 Furby on Amazon was going to be the best deal for this hot toy this holiday season? Yeah – I was wrong…
Looks like there'll be a few better deals this Black Friday.
Once again, I've been pouring over Black Friday ads for the best deals, and I've narrowed it down to three stores this time – Kmart, Toys 'R' Us, and Walmart.
Here's the skinny. (Click on the names of the stores to see each store's Furby deals.)
$29.99
3-day sale runes from Thursday through Saturday (Includes Furby)
Extra doorbuster deals run from 6am to noon on Black Friday Morning
$29.99
Thursday 5pm to 9pm ONLY
Limit 2 per customer
$29.99
Sale starts at 6pm on Thursday
1 hour in-stock guarantee on teal Furby ONLY
So, let us know – are you gonna try to snag Furby this year? Have you found any better deals?