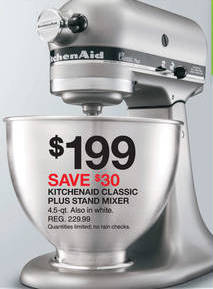 A while back, we posted a deal about a KitchenAid stand mixer for $199 shipped. While that deal is long gone, I did find some pretty good deals on KitchenAid stand mixers this Black Friday.
Browse all of the Black Friday 2013 ads, or check out the Black Friday 2013 deals we've posted about so far!
Is there anything in particular you're looking for this Black Friday? Let us know, and we'll try to help you find it!