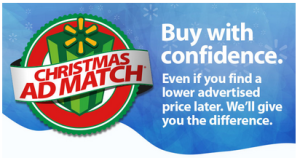 Looks like you'll be able to kick off your holiday shopping a week early this year.
Last week, Kmart and Sears announced that they would be offering Black Friday deals online this weekend to Shop Your Way rewards members. The early online Sears sale kicks off at 8pm on Friday, November 22nd. Kmart's early Black Friday sale begins at 1am on Sunday, November 24th.
Not to be outdone, Walmart announced yesterday that they would also kick off their Black Friday sales early, both in stores and online. Walmart's early Black Friday sale begins on Friday, November 22nd bright and early at 8am.
This year, Walmart is also extending their Christmas Ad Match to purchases made on Walmart.com. Customers can simply email their order confirmation numbers, competitor's price, zip code, ad date, and page number that the lower price can be found on. Prices can only be matched to brick-and-mortar stores, though, and sale prices on Thanksgiving and Black Friday can't be matched.
If you're going to hit the early sales, you might want to take a sneak peak at the 2013 Black Friday ad scans. Before you head out though, don't forget to read our tips for saving the most money this Black Friday. I'll keep you updated on all the happenings and deals on the early Black Friday sales.
Are you going to hit the early sales, wait until Black Friday, or skip them altogether this year?