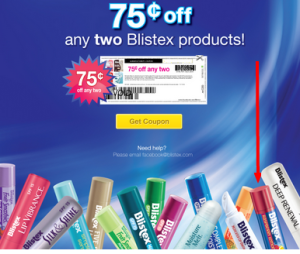 Are you a lip balm freak like me? If so, you'll love this deal!
Walmart has Blistex for $.98 each, and there are a couple coupons you can use to get this price down even further. Here's how to get some cheap Blistex…
Buy 2 Blistex @ $.98 each ($1.96)
Use (1) $.75/2 Blistex products (Facebook printable)
Use (1) $.25/1 Blistex
Final Price: $.96 wyb two ($.48 each)
I don't know about you, but I'm going to go after that there raspberry lemonade Blistex in the picture above. Yum!