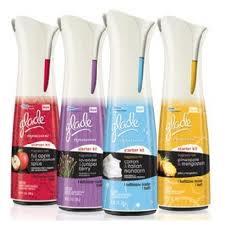 The blogs have been a buzz with the Glade Expression Walgreens deal that started yesterday! I went to Walgreens and got the Glade Expressions using my $3 Coupon (no longer available) and to my surprise a bonus $1.00 RR printed!  This is an overlapping Register Reward so instead of just a $1.00 moneymaker, it turned into a $2.00 moneymaker! Here are the details:Walgreens Scenario Starting 8/19:
Buy (1) Glade Expression Fragrance Mist Starter Kit 7oz  – $2.99, Get back $1.00 RR
Use $3.00 off Glade Expressions Fragrance Mist (NLA)
FREE + $2.00 moneymaker after coupon and register rewards ( Weekly RR + *$1.00 Monthly (?) Bonus)
Please note that some readers have had trouble redeeming the $3.00 coupon with some stores saying they can't reduce the coupon.  *Also, some reader have stated that some stores are keeping the extra reward. 🙁
This may be a mistake that has been corrected so proceed at your own risk.  I grabbed a few bottles with a $1.00/1 Hangtag coupon so even if you don't have the high value coupon you can still turn it into a moneymaker! 
Be sure to check out all the best  Walgreens deals here.  Good Luck and Happy Shopping!