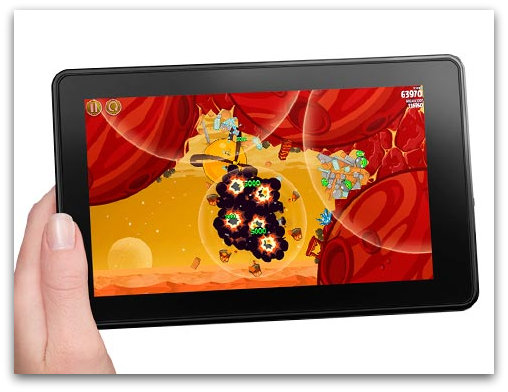 I want to first state that I absolutely love my Kindle Fire so much that I think I make my husband a little jealous. 😉  If you have an anniversary or birthday coming up you'll want to put this on your list of gifts and here's a great chance to get it for less. 
Available right now for preorder this All new – 40% faster performance, twice the memory, longer battery life Kindle Fire will be released on September 14th for only $159 shipped!   
Perfect portability – thin, light, and durable
Over 22 million movies, TV shows, songs, magazines, books, audiobooks, and popular apps and games such as Facebook, Netflix, Twitter, HBO GO, Pandora, and Angry Birds Space
Ultra-fast web browsing over built-in Wi-Fi
Integrated support for Facebook, Twitter, Gmail, Hotmail, Yahoo! and more, as well as Exchange calendar, contacts, and email
Free unlimited cloud storage for all your Amazon content
Includes special offers and sponsored screensavers.
Kindle FreeTime – a personalized tablet experience just for kids. Set daily screen limits, and give access to appropriate content for each child. Free on every Kindle Fire.
Special note: With FreeTime, you can set daily limits for Kindle Fire use or restrict certain categories (games, apps and video)while leaving unlimited time for reading and learning!  When kids use Kindle FreeTime, they have their very own, personalized tablet. The background color and fonts will change to a kid-friendly design. They will only see the titles that you give them access to. The screen carousel will show only their recently viewed titles. Kids can navigate visually to content based on characters or topics.  How great is that?
Currently, I have 116 ebooks loaded and no clutter on any shelves in the house!  If you have an Amazon Prime membership you'll enjoy a few extras as well.  Check out all the details here.