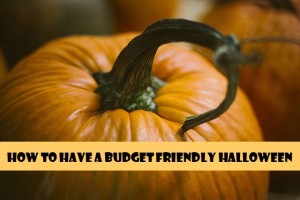 Halloween is just around the corner and if you are anything like me, I'm sure you don't want to spend a fortune on costumes, decor and candy.  
Here are some tips for you on How to Have a Budget Friendly Halloween:
Buy Your Candy in Bulk
Halloween candy can get pretty pricey, especially if you have a lot of trick or treaters.  Buying your candy in bulk is a great way to cut down on the cost of the treats.  There are several ways in which you can do this.  
You can buy large packages of fun sized candies from just about any grocery store, pharmacy or big box store.  If you choose to go this route, be sure to load any deal with your store club card and USE COUPONS!

You can typically find better deals on candy when you buy in bulk from a grocery store that offers bulk purchases.  In bulk bins, the candy is usually sold in stores at a per pound price, but occasionally at an individual price.
Consider non-candy treats
No, I'm not suggesting you hand out fruit and toothbrushes or business cards (that literally happened to my kids).  Maybe though, you can consider handing out inexpensive toys instead of candy.  Do an Amazon search for deals as they oftentimes have trick or treat toy packages for less per piece than good candy would cost you.
Shop for Used Costumes
Halloween costumes are typically worn one day per year.  That in itself is a great reason to shop thrift stores for your costume.  Why pay full price for something that you are only going to wear one time and why be afraid to wear something that has seen one day of use.  
Shop for Decor at Dollar Stores
If you are planning to shop for Halloween decor, be sure to check out the dollar store for your items.  Streamers, paper plates and cups as well as seasonal and holiday decor can be found at the dollar store for just $1 each!! Once Halloween has passed, make sure you check again because they sometimes drop prices down to as low as 4 for $1!