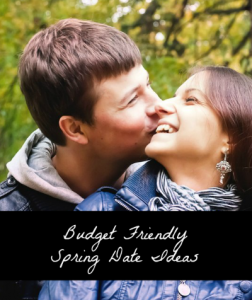 Spring is here, Spring is here, Spring is here!!!! Okay, so it's not quite here yet, but it's so close and I have seen the sunshine a couple of times!  I am so ready to enjoy it!  That has me thinking that I am ready to start having some fun, springtime dates with my man!!
We like to keep our dates on a budget though, so I have come up with some ideas for budget friendly Spring date ideas:
Go for an evening stroll.  Make this date happen often!  It is refreshing to get some fresh air with the one you love, plus if you are anything like me, you have put on a couple of pounds over the Winter and taking a nice stroll around the neighborhood in the evenings is a huge help to start to burn those extra calories and spend time with your honey.
Candlelit dinner.  Any dinner is better with candlelight.  For real, you can make a boxed Mac & Cheese meal feel romantic by candlelight.  Bring out the good dishes, turn down the lights in the house and enjoy your meal with a romantic glow.
Go hiking.  Take an easy hike at a local trail or park's walking trails. The easy walk feels great, plus Springtime is a great time to spot wildflowers!  That makes walks even better.  If you are in a place to pick those flowers, bring some home with you to put in a vase in your house to spruce things.
Check out Groupon.  Login into your Groupon account or app and check out their "things to do" tab. They often have really great deals on museum tours, restaurants, adventurous outings and more!   Also, make sure to double check for promo codes so that you can save even more!
Movie Night.  Check out your closest Redbox and look for a romantic flick to watch with your special someone.  A good old fashioned movie night makes a great reason to cuddle and be close.  You can even order in a pizza (look for more promo codes), it doesn't get much cheaper!
What are your best ideas for a budget friendly date night?  I would love more ideas to share with anyone and I would love more ideas to try myself!!