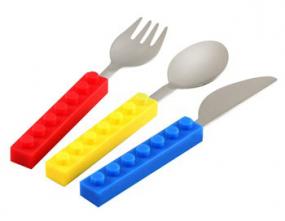 Building Block Fork, Knife and Spoon Set
$5.99 with $2 off Promo Code! Plus  free shipping!
PROMO CODE: FORK2
The Snack and Stack Utensil Set is designed for young eaters, as well as the mature eaters! The silicone handles are sized for both children and adults alike. This set of stackable utensils is perfect for the family-on-the-go. You can toss them into a lunch box, take them on the go.
Plus lots more from pinkEpromise.com if you want something else you can get 15% off sitewide with code BNOVVB