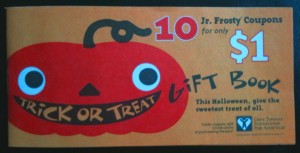 In addition to McDonalds, both Wendy's and Burger King are also offering the following coupon booklets:
Wendy's Trick or Treat Gift Book contains 10 coupons good for a FREE Jr. Frosty valid between 11/1/09 and 2/1/10.
Burger King's All Treats no Tricks Booklet has 8 coupons good for a FREE value size fries valid between 10/01/09 and 12/31/09.
Like the McDonald's Coupon booklets, both of these booklets sell for $1 each.  From what I understand not all locations have these available.
Thanks Deal Seeking Mom!