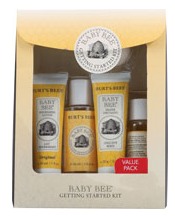 If you have not claimed or use your free $10 credit to Vitacost, then here is a deal you can get with it.  Vitacost has the following two Burt's Bees gift sets on sale.  Use your $10 credit to get them for just a few cents plus the cost of shipping.  This makes them as low as $5.20 shipped when they usually sell for $14.99-$15.99.
Burt's Bees Head To Toe Kit — 6 Pieces for $5.20 shipped
Burt's Bees Baby Bee® Getting Started Kit — 5 Pieces for for $5.98 shipped
How to get Your Vitacost Credit
Just sign up for a Vitacost account. Then wait for an email from them with your free $10 off coupon code. Use this code to get $10 off ANY order. Credit can't be applied towards shipping.
Thanks Moms by Heart!