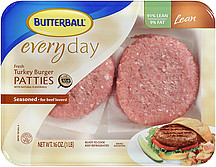 This morning a new coupon for $1/1 Butterball Everyday turkey burgers became available to print. The 16 oz Butterball turkey burger packs are priced at just $3.48 this week at Walmart, making them just $2.48 after coupon!
Not a bad price for a pound of ground turkey!
Going shopping? Check out all of the recent coupon deals we've found!
Resources You Might Like:
Coupons.com