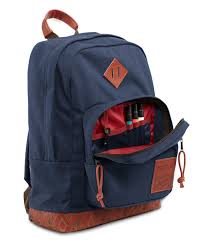 Buying a backpack is a big part of the back to school shopping tradition. Each and every year, hordes of parents and excited kids swarm into stores to buy a backpack that needs to meet a dozen different criteria.
One of the most questions you need to ask yourself when you buy a backpack is "will it last?" Unfortunately, amidst a sea of sparkling sequins and bright cartoon characters, the matter of quality and durability is often lost. As parents, we ourselves sometimes get caught up in the hustle and bustle of school shopping and even fall for the gimmicks and trends when it comes to backpacks.
The outcome? A backpack that's uncomfortable, or – worse yet – doesn't make it through the year.
This year, though, follow a few simple tips and buy a backpack that lasts all year and beyond. With any luck, you'll buy a backpack that can be used for years to come!
Consider Trusted Brands
There are some names in backpacks that are well-known and trusted, and for good reason! Some brands of backpacks are well constructed with quality materials. Granted, if you buy a backpack from a trusted brand you can also expect to spend a little more money, but many of the popular brands are backed by a warranty or guarantee.
Why is this important? Well, it means that if your child's backpack rips or gets damaged during the school year, you can usually get it repaired or replaced for free instead of shelling out more money for a new backpack. So, when you're on the hunt for a school backpack, check for deals on brands like Jansport, North Face, and LL Bean.
Check for Quality
Even if you buy a backpack from a trusted brand, it's still a good idea to check for quality. There are a couple of things to look for to see if you're buying a quality durable backpack.
Stitching should be even and straight. Chances are, if the manufacturers got sloppy with their stitches, they got sloppy elsewhere too. Check for loose threads and make sure the seams are tight. Pull on the handles and straps and check the seams where they are connected to the bag to make sure that they won't become damaged when strained.
Size Matters
These days, students need large backpacks! Middle school and high school students will need to be able to carry several text books, notebooks, and other supplies. Even elementary students need large backpacks for books and art projects.
When you buy a backpack, make sure it's big enough to carry all of the school supplies that your child will need to carry this year. By buying a bigger backpack, you won't have to spend money on an upgrade halfway through the year.
Get a Comfortable Backpack
Make sure you buy a backpack with padded straps and other comfort features, like ergonomic curved straps. Adjustable straps are also a must.
Also, have your child try the back pack on. A backpack should sit evenly in the middle of your child's back and should not be larger than their back. The straps should be wide enough apart that they sit evenly on both shoulders.
Go For Timeless Styles
Those shiny sequins and cheery cartoon characters might appeal to your child now, but what about next school year? Or even six months from now? Although it can be tempting to buy a super trendy backpack, it's usually better to buy a backpack in a timeless style, like a solid color or subtle pattern.
Your child can jazz up their backpack with different accessories, like pins and keychains. If they get tired of one cartoon character, they can simply switch their accessories instead of getting a whole new backpack.
What tips would you share to buy a backpack that lasts?