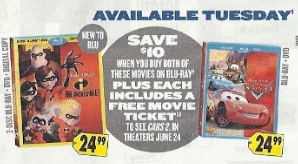 Today, both Cars and Incredibles were released on Blu-ray/DVD combo packs. Each of these Combo packs contain a movie ticket to see Cars 2 in theaters.  Toys R Us and Best Buy both are offering the same deal, but Best Buy prices are better!
Buy Cars on Blu-ray/DVD Combo Pack  $24.98
Buy Incredibles on Blu-ray/DVD combo pack $24.98
Get $10 off instantly for buying them both together
Use the $10 Incredibles printable coupon
Plus use the $8 Cars printable coupon
Pay $21.98
Receive (2) movie tickets to Cars 2 worth $8.50 ea
Final cost is ONLY $5.46 for both movies!
Thanks David and Couponing To Disney