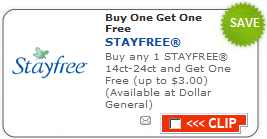 If you already printed the Buy One Get One Free Stayfree coupons available on Coupons.com, you can print two more.   There is a new link available for this HOT coupon.  Just click here to print the coupon.
Why is this coupon so HOT? Next week (1/9) you can get the following deal at Rite Aid:
Buy two Stayfree Maxi Pads (14-24 ct) 2/$5.00 and get a $2.00 +Up Reward
Use B1G1 Stayfree Product or
Use B1G1 Stayfree Product
Pay $2.50 plus tax out of pocket and get back one $2 +UP reward
That's like paying $0.50 for two products.  If you have no need for these products I want to remind you that they make much needed donations to women's shelters.
Thanks Coupon Katarina!