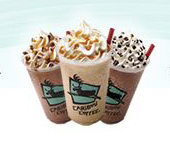 Caribou Coffee is offering a free Wild Cooler when you use the Wild It Up Application on their Facebook page.  You will of course need to become a fan first to try the application.  After you use the application you will be able to print a coupon for a free medium Wild Cooler.  Coupon expires July 6th.
This yummy treat comes in the following flavors: Vanilla White Chocolate Mocha, Campfire Mocha, Lite White Berry, Mint Condition, Chai Tea, Apple Blast, Turtle Mocha, and Caramel High Rise.  Find the Caribou Coffee closest to you here.
Thanks Northern Cheapskate!