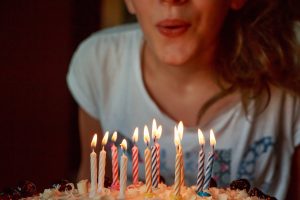 The same weekend that the recent news hit our area, we were supposed to be celebrating the March 15 birthdays of 3 of our family members. That's right. My father in law, my brother in law and my nephew were all born on March 15, so obviously, this is typically a big family celebration for us. Unfortunately we had to cancel it as my father in law is considered high risk so we didn't want to take the chance. 
We have since been put on a "shelter at home" order and even though we have 3 more birthdays coming up in the next several weeks, there is no decision making to it. We cannot have birthday parties. We have had to figure out how to celebrate birthdays while in quarantine and frankly, I'm excited about it!
How To Celebrate Birthdays While in Quarantine
Don't 
There is always the option of just waiting to celebrate the birthday until after this is all over. Honestly, my birthday is in 2 weeks, and that's what I am planning to do with mine. I would probably do this with little ones too. I mean, if your child is turning 1 or 2, they really don't even realize what they are celebrating, so waiting a while isn't going to be a big deal. 
Zoom / Skype / Facebook / Duo
Whatever streaming service you like will work, just fine! Just get the crew together virtually to have a family and friends video streaming party to celebrate! I love this because everyone can sing happy birthday and everyone can watch the guest of honor blow out their candles. 
Talk All of the Would-Be Guests into Sending Virtual Cards
Let the birthday boy or girl know that they are being thought of on their special day by talking all of the would-be party guests into sending them virtual cards!  They can open them all at one and know that everyone is thinking of them. How fun!
Have a Small Family Party
Make a cake, sing a song, watch some fun movies…the possibilities are there! Just make sure that the special birthday boy or girl knows that just because this birthday is different, doesn't mean that it is any less important.