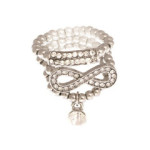 I almost forgot it was Fashion Friday at Cents of Style!
This week, you can get a set of three stretch stackable rings for just $5.99. These are normally $14.95, but if you enter the code RING at checkout, the price will drop and you'll get free shipping!
Keep your dog styling with the sweaters on sale at PetSmart!