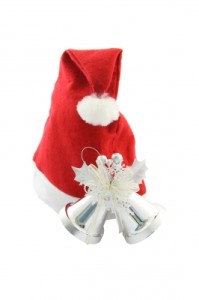 For many of us, the holidays isn't always a jolly ol' time. Oftentimes, it seems like we're dropping money every time we turn around, on everything from gifts to fuel to holiday munchies. One of the biggest money suckers during the holidays is also holiday decorations – they ain't cheap!
Cheap Christmas decorations, though, aren't non-existent, even if you didn't stock up after last year's sales. With a little ingenuity and creativity, you can decorate your house to the nines for the upcoming holidays…
Dollar Stores Have Cheap Christmas Decorations!
And some of them aren't bad either! My local Dollar tree sells all sorts of cheap Christmas decorations, and I usually hit up these stores first at the beginning of the season if I need something. You can snag ornament packs, tinsel, holiday knick knacks, and even wreaths and lights for just a buck! One of my favorite cheap Christmas decorations at the Dollar Stores are the 9-packs of jingle bells. Just add hooks, and you have some shiny new ornaments!
Don't Rule Out the Thrift Shops
They might not take coupons, but I find some of my best bargains at thrift shops these day, even cheap Christmas decorations! That's right – I'm not to proud to hit up the local thrift stores. In fact, I love 'em. Fortunately, this is the time of year that thrift stores haul out all of their cheap Christmas decorations. Holiday goodies galore! You can also usually find all sorts of other goodies as well, like pretty holiday ribbon and knick knacks that you can use to make ornaments, which brings us to…
Make Your Own Decor
Why not make your own cheap Christmas decorations? Think salt dough ornaments, paper chains, and cranberry popcorn garlands! And, let's not forget one of my favorites – rag garland. You don't have to be a renowned artist to create something pretty. There are loads of tutorials all over the Internet for homemade holiday decor. Most of them only require no money or – at most – just a few dollars out of pocket too, making them invaluable when you need some cheap Christmas decorations.
Reuse,

 

Upcycle, and Reclaim!

Do you really need to buy brand new decor this year? Probably not. Instead of trying to find new cheap Christmas decorations this year, why not reuse what you have from previous years? If you don't think there's anything salvageable, jazz them up a bit with a little glitter, ribbons, and glue. You can make just about anything pretty with glitter, ribbons, and glue! Also, take a second look at some things around your house that might make interesting (and cheap) Christmas decorations. I've used everything from playing cards to light bulbs to bottle caps for holiday decor. The Internet is an amazing resource if you need ideas for upcycled cheap Christmas decorations.
Get Back to Nature
It might be chilly, but nature has no comparison when it comes to finding cheap Christmas decorations. Evergreen and holly boughs would make a beautiful holiday table centerpiece if placed in a pretty bowl. Bend a coat hanger a little, add some evergreen and ribbon, and you have a wreath! The possibilities are endless!
Raid Your Pantry
There's bound to be something in there to make some cheap Christmas decorations if you've been stocking up. I remember we made some oh so yummy smelling cinnamon and applesauce "cookies" (not edible – trust me!) to use as decorations several years back. Even a few cinnamon sticks adorned with some pretty ribbon would make some nice cheap Christmas decorations!
Hit Up Family, Friends, and Neighbors
Many households have holiday decor that they aren't using stored away. It never hurts to ask someone if you can borrow some of the decor that they aren't using.