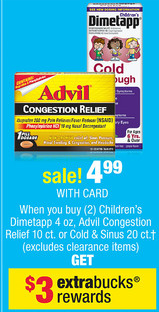 This week at CVS, you can get cheap Advil Congestion Relief and/or Dimetapp! These products are both on sale for $4.99 and you'll get back a $3 ECB back when you purchase two. The limit is 5 and excludes clearance. Here are the details:
Buy (1) Children's Dimetapp 4oz – $4.99
Buy (1) Advil Congestion Relief 10ct — $4.99
Use $2/1 Dimetapp Products 
PLUS use (1) $2/1 Advil Congestion Relief or from RP 8/26 (exp 10/31)
Pay $5.98, get back $3 ECB
You end up paying just $1.49 each after coupons and reward!
Check out all the best CVS deals here.