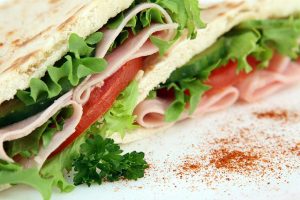 Do you have kids in school?  Are your kids involved in after school activities?  Those busy, activity filled school nights are so very hectic and it is extremely easy to find yourself blowing your budget on fast food.  I mean, if your family is anything like mine, it is not unheard of to end up at home after nine on a school night and it's hard to find time to cook dinner. 
Cheap, Quick Dinner Ideas for Busy School Nights
Breakfast.

Breakfast is always a quick and cheap dinner idea for busy nights.  Make some eggs and toast, make some oatmeal, a quick omelet… There are some really easy breakfast ideas that you can prepare in 20 minutes or less. 

Slow Cooker Meals.

  The slow cooker is your friend during the busy school nights.  In the morning, before you start your day, you can toss just about anything into the slow cooker and turn it on low.  It'll be done by the time you get home. Here are a couple of my favorites:

Chicken burritos.  Chicken that has been cooking in the slow cooker all day long is extremely tender and you can wrap it up in a tortilla mixed with cheese or cheese and beans together and voila, you now have chicken burritos!

Beans.  Toss some beans in a slow cooker and come home to delicious beans at the end of the day.  Again, you can easily turn these into burritos if you have a burrito fan in the house.

Roast.  Pork or beef roast will each be deliciously tender at the end of the day after cooking in the slow cooker all day.

You can grab some 1-minute rice or other quick side to make along side of these main dishes.

Sandwiches or Cereal.

  Mama, you do not need to feel sorry for letting your kids eat sandwiches or cereal for dinner some nights.  No, I'm not suggesting that you do these for dinner each night, but once in a while it is not going to hurt anyone.  I like to do a free for all dinner once a week. I prepare a meal for my 3 year old, but everyone else is on their own and the big kids almost always choose sandwiches and cereal.
What is your favorite cheap and easy dinner idea for those busy nights?