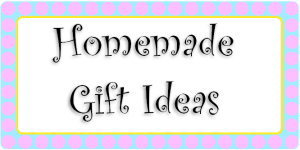 Cheap homemade gift ideas can be a lifesaver for those with very little money, and a little extra time. Not only will you save some cash this holiday season, but you'll also get the satisfaction of knowing that you put extra time, thought, and love into your gift.
So, without further ado, here are some great cheap homemade gift ideas…
Cheap Homemade Gift Ideas
Edible cheap homemade gift ideas. If I can eat it, I love it – especially if it's sweet. I believe this is true for others as well, which makes edible homemade gift ideas so great. Whip up a few batches of homemade cookies or candies, and package them up ever so perty with ribbons and bows. If the recipient is a baker or cook, why not try some homemade jar gifts? Just layer the dry ingredients for a recipe in a jar, tie cooking instructions to the rim of the jar with a pretty ribbon, and add an attractive label.
Homemade mug gift ideas. Mug gifts go over well with just about everyone, young and old. Choose an attractive mug from your local dollar store and add hot chocolate mix, flavored coffee, or tea. You can also add other items, like flavored creamers, cinnamon sticks, marshmallows, and chocolate dipped spoons. If you're feeling really crafty, get some porcelain paint and personalize a plain mug.
Cheap homemade photo gifts. Some of the best cheap homemade gift ideas for parents and grandparents are homemade photo gifts. Think framed pictures and photo albums. Make sure that you choose photo frames and albums that match the decor of the recipients' homes though.
Homemade candle gifts. Homemade candles are actually very easy to make. You can pick up candle making supplies like wax, wax dye, essential oils, and wicks at craft stores. To save a little more money, you can also use tall taper candles as wicks for larger candles and old crayons to tint the wax. Some of my favorite homemade candle ideas include jar candles, layered candles, ice candles, charm candles, and teacup candles.
Jewelry as homemade gifts. Like making candles, making jewelry isn't as hard as most people think. Just be sure to get quality metal jewelry making materials from a craft store, and give the item in a nice gift box. Some easy homemade jewelry ideas for beginners include charm bracelets, drop earrings, and beaded bracelets and necklaces. If you're feeling froggy, try your hand at some wire bird nests.
Useful homemade gifts. Cheap homemade gift ideas for gifts that are useful enough to use every day are the best. If the gift recipient is a reader, try your hand at a ribbon and charm bookmark. Coasters, clocks, coat racks, storage caddies, gloves, mittens, and scarves are all useful and can be made with little money.
Cheap Homemade Gift Ideas Tips
The secret to giving a cheap homemade gift is to make it look like you're trying to spend as little as possible on your gifts. Spend some time carefully crafting your homemade gifts so they don't look like an afterthought or poor attempt. Well-made homemade gifts will be treasured.
Also, presentation is important. Give homemade gifts in pretty gift boxes or embellish them with ribbons or attractive labels.