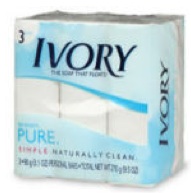 This week you can get a great deal on Ivory Bar Soap at Walgreens. Ivory soap is on sale buy one 3 pack get one 3 pack free. This deal is not available in all areas, so let us know if you are able to get this deal. Here is the deal scenario:
Buy 2 Ivory Bar Soap 3 Packs ($1.79 BOGO)
Use $1.00/2 Ivory Body Wash or Bar or Safeguard Bar or Hand Liquid Soap 07/31 P&G (Exp. 08/31)
Pay only $0.40 each or $0.13 a bar
Thanks, Wild for Wags!