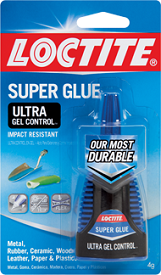 You can get some cheap super glue at Target afetr coupons.  That should help you have it on hand next time you need it!
Loctite Super Glue $2.04-$2.69 (prices vary by region)
Use $1/1 Loctite Control Super Glue 8/7/2011 RP Insert (exp 9/10/2011)
PLUS Use $1/1 Loctite Super Glue TARGET coupon Target.com (exp 9/10/2011)
Pay as low as $0.04 for one after coupons
Loving this deal! Can't tell you how frustrating it is to reach for the super glue only to find it completely dried out.
Thanks, Stingy Momma!