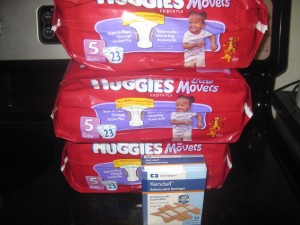 I just wanted to share with you the deals I got this week at Rite Aid and CVS.  First, I just HAD to stop at Rite Aid for the Huggies diaper deal.  I am desperate for diapers for both kids and this deal going on right now is great.  Here is what I got:
Bought three packs of Huggies diapers $8.99 each
Used one $5/25 Rite Aid coupon
Used one $2/1 Huggies video values coupon
Used one $2/1 Huggies diaper coupon
Used one $4/2 Huggies diaper printable
Paid $13.97 and got back THREE $2 +UP rewards for the Huggies!
Thanks to Maven of Savin for the heads up on this deal.
I had to deal with a coupon unfriendly cashier there though. Even though her manager was telling her that I could use one video values and one manufacturer coupon per item AND she was reading the coupon policy herself, she was a bit reluctant. She did it in the end but as I walked away she kept saying how Rite Aid needs to revise their coupon policy because people take advantage of it. On a good note, while shopping at that store I found a tearpad for $0.75/1 Fuze drinks. And you know what I did with the coupons? I took them down the road where I used them to get paid to buy these ten bottles.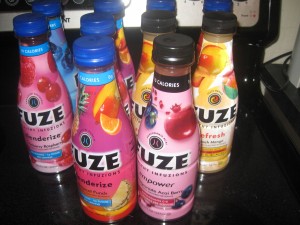 This is the deal:
Bought ten bottles of Fuze 10/$10
Used ten $0.75/1 Fuze drinks tearpad coupons
Paid $2.50 out of pocket and got back $5 in extra care bucks
And the wonderful CVS cashier did not even say a peep about my deal :-). I am going to go back to pick up two bottles of clearance listerine and then do the P&G deal buying Charmin: Buy $25 and get $10 ECBs.
How did you do at CVS or Rite Aid this week?