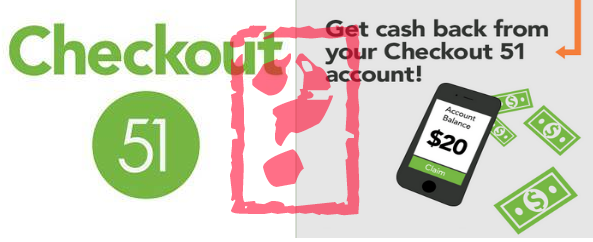 I've mentioned Checkout 51 a few times lately, and I figured I'd do a post outlining exactly what it is and how it can help you save money. Below are some of the commonly asked questions and answers about this cash back site.
What is Checkout 51 and how do I use it?
Checkout 51 is a relatively new cash back site designed to help you save even more money on your grocery bill. Checkout 51 partners with different stores and brands in order to bring you extra savings.
Using Checkout 51 is very simple. Just take a look at the available offers online before you go shopping. You'll usually find offers for products that you buy regularly, including food, household, and personal items. After you buy your items, you take a picture of your receipt and upload it to the Checkout 51 website or via the Checkout 51 app. Once your purchases are confirmed, your account will be credited for each of your qualifying cash back purchases.
One of the best things about Checkout 51, I think, is you don't have to have a smartphone to use it. You can scan or take pictures of your receipt and use your computer to upload them.
What stores can I use with Checkout 51?
You shop at any retail store and use Checkout 51. That's one of the things that i love about this app! In addition to the in-store coupon savings, you can also get additional money back.
Where and when do I get access to Checkout 51 offers?
You can find available offers online on the Checkout 51 offers page. You can also download a Checkout 51 app for Apple and Android, and access the Checkout 51 offers from there.
New Checkout 51 offers go live on Thursdays at midnight. They are available for exactly a week and end the following Wednesday at 11:59 PM. You will only be able to redeem your receipts and get cash back during this time.
Can I use coupons with Checkout 51?
Heck, yeah! This is another reason why I think Checkout 51 is going to be a great money saver, or – in some cases – a money maker. If you use coupons to snag free or super cheap items during a store sale, you can also upload your receipt to receive cash back from Checkout 51 as well, no matter how much you actually paid for the item. In some cases, you might even be able to quadruple stack manufacturer coupons, with store coupons and Checkout 51 offers.
How much cash back can I get from Checkout 51?
The amount of cash back you get from Checkout 51 really seems to depend on which items you buy. Like traditional coupons, some offers have higher values than others. However, if you choose offers based on the amount of cash back they pay, you could actually be spending more than this would save you. Instead, only choose offers for products that you normally buy.
When and how will I get my Checkout 51 cash back?
The Checkout FAQ state that the majority of accounts are credited within an hour after receipts are uploaded. However, it may take up to 48 hours for your account to be credited in some cases.
You can cash out as soon as your account reaches $20 or more, you can request a payment. Payments are made by check, and you should receive your cash back payment within a few weeks.